---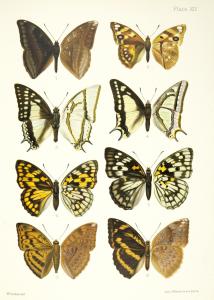 Butterflies from China, Japan, and Corea.
Eur 6,500 / USD 7,200
The price shown on each item does not include V.A.T (Value Added Tax). As a result of the recent EU legislation we are required to charge our EU customers the percentage of V.A.T. charged by the customer's country of residence, unless they possess a V.A.T. registration number. Postage Additional.
London, R.H. Porter, 1892-1894. 3 volumes. 4to (285 x 220mm). pp. lv, (7), 1-298; (2), 297-681; (4), with 48 (43 chromo-) lithographed plates and 1 folded chromolithographed map (map to illustrate the butterflies from Japan, North China, and the Korea by J.H. Leech). Contemporary brown half morocco, richly gilt decorated spines in 6 compartments with gilt lettering.
Leech described many species new to science in the present work
A beautifully produced work on the butterflies of the Far East. "Great care and planning went into his ambitious scheme to explore Japan, Korea, and the little known parts of the northwestern Himalaya and central and western China. He set up collecting stations and trained local people to collect for him. In addition he employed well-known western collectors, such as Albert Stewart Meek (1871-?), who had done so much successful collecting for Lord Rothschild... He was largely successful and his work still stands out as a standard reference work" (Gilbert, Butterfly collectors and painters p. 106). Leech described many species new to science in the present work. John Henry Leech (1862-1900) was educated at Eton and Trinity Hall, Cambridge and developed an early interest in entomology, in particular, the Coleoptera and Lepidoptera. Original printed wrappers bound in at end of each volume. A very fine copy.

Provenance: Bookplate of J. Fenwick Lansdowne.

Nissen ZBI, 2414.