---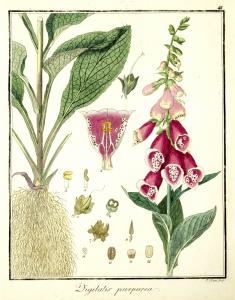 Getreue Darstellung und Beschreibung der in der Arzneykunde gebräuchlichen Gewächse, wie auch solcher, welche mit ihnen verwechselt werden können.
Eur 9,800 / USD 10,000
The price shown on each item does not include V.A.T (Value Added Tax). As a result of the recent EU legislation we are required to charge our EU customers the percentage of V.A.T. charged by the customer's country of residence, unless they possess a V.A.T. registration number. Postage Additional.
Berlin, auf Kosten des Verfassers (& Nicolai'sche Buchhandlung), 1805-1837. 13 volumes (bound in 6). 4to (273 x 230mm). With 1 lithographed portrait and 624 hand-coloured engraved plates. Contemporary uniform black half morocco, richly gilt spines with gilt ornaments and lettering, cloth sides (some minor skilful repair to spines).
One of the finest German works on medical plants
One of the finest German works on medical plants. Gottlob Friedrich Hayne (1763-1832) was a German botanist and pharmacist as well as professor of pharmaceutical botany in Berlin and a contemporary of C.L. Willdenow. Hayne published several botanical works of which some together with Friedrich Guimpel. The present work of which the plates according to Stafleu are 'beautifully coloured... showing only one species (mostly phanerogams; some cryptogams)' is Hayne's major work. After Hayne's death volume 12 and 13 were edited by J.F. Brandt and J.T. Ratzeburg. The elaborate plates are almost all by Friedrich Guimpel, a famous botanical artist and engraver and professor at the Academy of Arts in Berlin. Guimpel illustrated some of the finest botanical works of the period such as Willdenow's impressive work 'Hortus Berolinensis'. Six years after volume 13 had been published J.F. Klotzsch brought out 24 lithographed plates, as a kind of supplement. This supplementary volume remained unfinished and is mostly not present. Volume 13 is, as is often the case, the early issue, without the preface by Hayne's widow and the general index.

Great Flower Books, p. 58; Nissen BBI, 815; Stafleu & Cowan 2508.