---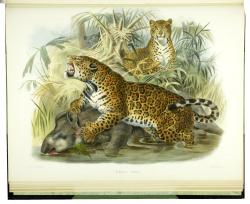 A Monograph of the Felidae or Family of Cats.
Eur 95,000 / USD 104,500
The price shown on each item does not include V.A.T (Value Added Tax). As a result of the recent EU legislation we are required to charge our EU customers the percentage of V.A.T. charged by the customer's country of residence, unless they possess a V.A.T. registration number. Postage Additional.
London, by the Author, (1878-) 1883. Large folio (597 x 477mm). With 43 splendid handcoloured lithographed plates from drawings by Joseph Wolf and lithographed by J. Smith. Slightly later green half morocco, gilt lettered spine in 6 compartments.
the most splendid monograph ever made on this group of animals (Cats, Lions, Pumas, Tigers, Panthers)
First and only edition. A superb copy of the most splendid monograph ever made on this group of animals (Cats, Lions, Pumas, Tigers, Panthers). In the Preface Elliot remarks of Wolf's illustrations: "It is quite unnecessary for me to call attention to the Plates which ornament this volume. They are worthy of the great artist who produced them, and they bear an enhanced value..." Josef Wolf, from German origin, was the first of a select group of continental bird and animal artists to be attracted to England, to be followed by artists as Keulemans, Smit and Grönvold. He became one of the most celebrated artists of his time, illustrating other works of Elliot, Schlegel & Wulverhorst's 'Traité de Fauconnerie', and contributing a.o. plates to Gould's 'Birds of Asia" and 'The birds of Great Britain'. "... was fortunate enough to secure the services of Mr. Joseph Wolf, who may be fairly said to stand alone in intimate knowledge of the habits and forms of Mammals and Birds" (Skipwith p. 105). Daniel Giraud Elliot was a wealthy American naturalist and author of a number of sumptuously illustrated ornithological books, as well as the present work on the family of cats. He was Curator of Zoology at the Field Museum of Chicago. The work was issued in 11 parts. The upper printed 11 wrappers to these parts are bound in at the end of the book.

Nissen ZBI, 1279; Wood p. 332.