---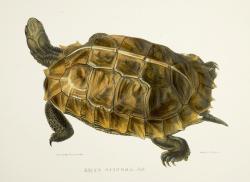 Tortoises, Terrapins, and Turtles drawn from life. Text by John Edwards Gray.
Eur 20,000 / USD 23,000
The price shown on each item does not include V.A.T (Value Added Tax). As a result of the recent EU legislation we are required to charge our EU customers the percentage of V.A.T. charged by the customer's country of residence, unless they possess a V.A.T. registration number. Postage Additional.
London, Sotheran, Baer & Co., 1872. Folio (375 x 272mm). pp. iv, 16, with 60 lithographed plates ofwhich 57 beautifully handcoloured and enhanced with gum arabic, all drawn on stone by Edward Lear after J.D.C. Sowerby. Original brown half morocco, gilt lettered spine.
The book is the most outstanding collection of tortoise illustrations ever produced
First complete edition of this exquisite and rare work on turtles and tortoises. Four men were responsible for this classic herpetological work, i.e. Thomas Bell as superintendent of the plates and intended author, James de Carle Sowerby as artist, John Edward Gray as writer of the text to the final publication of the plates, and Edward Lear as lithographer. 40 plates first appeared in Bell's 'Monograph Testudinata' (1832-42). This work was never finished due to the publisher's bankruptcy. The 40 plates together with 20 additional, previously unpublished, plates were re-issued in 1872 by Sowerby and Lear.

The plates were reproductions of paintings by James de Carle Sowerby, produced by the process of lithography by Edward Lear. Bell was the first person to attempt to write a comprehensive account of the tortoises, and went to great lengths to acquire living tortoises which Sowerby was to draw. The book is the most outstanding collection of tortoise illustrations ever produced.

The unsold parts of Bell's 'Monograph of the Testudinata', together with Sowerby's plates for the rest of the work were acquired by the publishers Sotheran, who wished to publish a new edition of the 8 parts, incorporating the remaining plates. As Bell had declined to write the text for the last plates, it was natural that Gray should have been asked to do it. In this way, a complete edition of the book Bell had started in 1832, was finally published 40 years later in 1872. It had a new 16 page introduction by Gray.

"The names 'Sowerby and Lear' are forever linked herpetologically as artist and lithographer, respectively, for the greatest atlas of turtle illustrations and one of the finest productions among natural history books... Beforer achieving fame as a writer and landscape painter Lear began as a natural history artist. He issued a series of drawings of parrots in 1830-1832 and, unlike other zoological artists of the day, specialized in drawing living animals, which appealed to Bell" (Adler, vol. 2 pp. 61-62). The 3 plain plates were never coloured.

Nissen ZBI, 1701; Adler, vol. 1 p. 35; Wood 1872.