---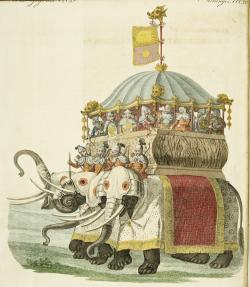 Bilderbuch für Kinder enthaltend eine angenehme Sammlung von Thieren, Pflanzen, Blumen, Früchten, Mineralien, Trachten und allerhand andern unterrichtenden Gegenständen aus dem Reiche der Natur, der Künste und Wissenschaften; alle nach den besten Orginalen gewählt, gestochen, und mit einer kurzen wissenschaftlichen, und den Verstandes-Kräften eines Kindes angemessenen Erklärung begleitet./ Porte-Feuille des Enfants, melange interessant d'Animaux, Plantes, Fleurs, Fruits, Mineraux...
Eur 16,000 / USD 17,600
The price shown on each item does not include V.A.T (Value Added Tax). As a result of the recent EU legislation we are required to charge our EU customers the percentage of V.A.T. charged by the customer's country of residence, unless they possess a V.A.T. registration number. Postage Additional.
Weimar, im Verlage des Landes-Industrie Comptoirs, (1792)-1830. 4to (235 x 190mm). 12 volumes. With1186 handcoloured engraved plates. Later uniform half calf, spines with gilt lines and ornaments and red gilt lettered red label
the finest natural history encyclopaedia ever made for children
An attractive uniformly bound copy of the finest natural history encyclopaedia ever made for children. The work was published in 237 parts over a long period, for this reason complete copies are very rare, especially the last published volume. Friederich Bertuch 1747-1822 was one of the most important publishers of the period, in 1790 he established the famous 'Landes Industrie Comptoirs', publishing in 1791 Goethe's work on Optics as well as many other works of importance. "Bertuch's picture-book was the crest of the wave of educational children's books on science which can be traced back to the 'Orbis pictus' of Comenius, first published in 1658. The plates were produced by Ludwig Ebner, C. Ermer, Theodor Götz, Ludwig Hess, Conrad Horney, J.B. Hoessel, C. and G. Starcke... and other Weimar artists under the direction of Melchior Kraus and Johann Heinrich Lips" (Nissen p. 77). Volume 12 with some occasional worming in the upper margin.

The plates are of a very high quality and all beautifully handcoloured. The text is both in German and French.

Nissen, Bestiaries p. 77; Nissen ZBI 340. Seebass, Kinderbücher, 180.