---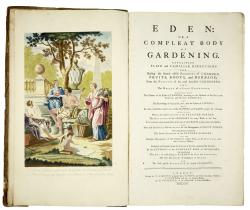 Eden: or, a complete body of gardening. Containing plain and familiar directions for raising the several useful products of garden, fruit, roots and herbage; from the practice of the most successful gardeners, and the result of a long experience. Together with the culture of all kinds of flowers... Including the care and culture of the pleasure-garden.
Eur 18,000 / USD 19,800
The price shown on each item does not include V.A.T (Value Added Tax). As a result of the recent EU legislation we are required to charge our EU customers the percentage of V.A.T. charged by the customer's country of residence, unless they possess a V.A.T. registration number. Postage Additional.
London, T. Osborne, S. Crowder, H. Woodgate, (1756-) 1757. Folio (422 x 255 mm). pp. (2), iv, ii, 714, with handcoloured engraved frontispiece and 60 beautifully handcoloured engraved plates. Contemporary half calf, spine in 6 compartments with gilt lines and lettering (skilful repair to upper hinge and head of spine, new corners).
One of the very few copies with superb gouache handcolouring of the plates
First edition. One of the very few copies with superb gouache handcolouring of the plates. One of the most attractive English botanical illustrated works and according to G.E. Fussell in 'More OId English Farming Books' the plates are 'very fine'. "The publication of 1756-7 contains a fine frontispiece, etched and engraved by C. Crignion from drawings by Samuel Wale. It is entitled: 'The Genius of Botany explaining to a gardener the characters of plants, while Flora & Pomona offer him their choicest products, as award of his labour'. The book is illustrated with sixty plates with a number of figures of plants on each. In a notice regarding the work in 'The Public Advertiser' of 16 November 1757, we read: 'The drawings have been all made from nature by Dr. Hill, and the greatest part of the plates engraved by his own hand'. In the same notice it is stated: 'There are some sets curiously coloured from nature, to be had of the proprietors'. .. 'Eden' contains descriptions and cultural details concerning the various products of the garden under the time of the year in which they flower or fruit.,, the phrase name used by Linnaeus for each plant is given, and each is referred to its place in that author's system, which is explained. Advice is offered on what to do each month in the kitchen, flower, and fruit garden...." (B. Henry, British Botanical and Horticultural Literature before 1800, II. pp. 95-96).

Nissen BBI, 880; Dunthorne 129. Hunt 559; Stafleu & Cowan 2770.