---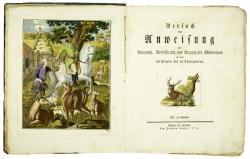 Versuch einer Anweisung zur Anlegung, Verbesserung und Nutzung der Wildbahnen, so wohl im Freyen als in Thiergärten.
Eur 3,900 / USD 4,700
The price shown does not include 9% V.A.T. As a result of the EU legislation we are required to charge our EU customers 9% V.A.T., unless they possess a V.A.T. registration number.
Berlin & Stettin, Pauli, 1779. 4to (265 x 220mm). pp. xxii, 356, with handcoloured engraved frontispiece and 117 (one anatomical engraving plain) fine hand-coloured engravings. Contemporary blue boards.
a fine example how hunting was practiced during the reign of King Frederick II (The Great) of Prussia
A large uncut and finely coloured copy of one of the most famous German hunting books and according to Schwerdt 'a beautiful and scarce book ...'. "Schönes und bedeutendes Jagdbuch. Es beschreibt in 3 Abschnitten mit 29 Kapiteln Hege und Zucht der wichtigsten jagdbaren Tiere, ihre physiologische Beschaffenheit und ihre Gewohnheiten. Das Kapitel über die unterschiedlichen Jagdweisen wird ergänzt durch zwei Abschnitte über Tilgung der Raubthiere und Raubvögel" (Lindner 1610).
The book decribes hunting, deerparks and similar enclosures for game, and is a fine example how hunting was practiced during the reign of King Frederick II (The Great) of Prussia, one of the leading European nations at that time. Graf August Wilhelm von Mellin (1746-1836) came from a famous and wealthy Prussian nobel family and was educated at the 'Collegium Carolinum' at Braunschweig. He studied sciences, languages and developed a keen interest in drawing and painting, especially animals. He strongly admired J. Ridinger's engravings on wildlife and hunting. In 1765 he continued his studies at the university of Halle. After his studies he returned to his large estate Damizow near Stettin where he enjoyed extensive hunting. He added a zoological garden and a pheasantry to the estate and stood in lively correspondance with the great naturalists of his time such as Buffon, Burgsdorf, Schreber, Bloch, Bechstein and others. He was member of the 'Naturforschenden Gesellschaft' of Berlin and Halle. In 1770 he was appointed chamberlain to the court. The book is usually found with plain plates and coloured copies are scarce. Signature of A. Mellin on the dedication leaf.

Provenance: Library Schloss Pfannberg, armorial bookplate with crown and shelf number on inside frontcover.

Lindner 1610; Schwerdt II, p. 22.