---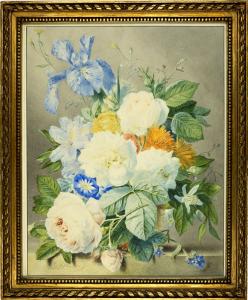 Still life with a variety of flowers.
Eur 3,600 / USD 4,300
The price shown does not include 9% V.A.T. As a result of the EU legislation we are required to charge our EU customers 9% V.A.T., unless they possess a V.A.T. registration number.

Watercolour, 315 x 250mm., signed 'G.J.J. Van Os f ', in ink in left lower corner, framed.
Georgius Jacobus Johannes van Os (The Hague 1782 - Paris 1861) was a well known flower painter and pupil of his father Jan van Os. In 1822 he moved to Paris, where he worked for the Sèvres porcelain factory. He also painted landscapes but is best known as a flower painter. He made many of the flower illustrations for Jan Kops 'Flora Batava', the most important and beautifully illustrated flora of the Netherlands. The present bouquet shows roses, an iris, forget-me-not, peonies, chrysanthemums, a passion flower and some others.