---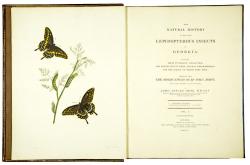 The Natural History of the Rarer Lepidopterous Insects of Georgia.
Eur 65,000 / USD 68,300
The price shown on each item does not include V.A.T (Value Added Tax). As a result of the recent EU legislation we are required to charge our EU customers the percentage of V.A.T. charged by the customer's country of residence, unless they possess a V.A.T. registration number. Postage Additional.
London, T. Bensley for J. Edwards, Cadell and Davies, and J. White, 1797. 2 volumes. Folio (405 x 315mm). pp. (8), xvi, (1), 1-98; pp. (4), 99-208, (6, index), with 104 fine handcoloured engraved plates. Contemporary maroon straight-grained morocco, richly gilt decorated sides, richly gilt spines with gilt lettering, gilt turn-ins, gilt edges.
beautifully illustrated treatise on the Lepidoptera and associated flora of the American South
First edition, later issue, of this beautifully illustrated treatise on the Lepidoptera and associated flora of the American South. It is the first work devoted to American lepidoptera. The text is in English as well as in French. John Abbot, born in London in 1751, became a professional natural history collector and illustrator, supplying specimens and paintings to many of the famous cabinets in Great Britain. He emigrated to Virginia in 1773, and later settled in Georgia, where he took part in the Revolution. Although he executed several thousand watercolour drawings of the American flora and fauna, this is his only published work. It was prepared by James Smith, president of the Linnaean Society, who verified the species and added his own notes. In his preface he remarks how this is the first treatise on the entomology of North America. In preparing Abbot's notes and checking identifications, he had recourse to several collections containing specimens and illustrations supplied by Abbot, including that of Sir Joseph Banks.
The plates are some of the finest ever made of butterflies and moths, and are notable for including all the stages of metamorphosis, along with the food plants of the species. They were engraved by J. Harris from Abbot's original drawings. Most copies of this work are of the early 19th century issue, with watermarks as late as 1822. Our copy has some watermarks dated 1794, 1820 and 1822. A splendidly bound copy in mint condition with the book plate of Albert Edgar Lownes, (1899-1979), famous American book collector.

Dunthorne 287; Great flower books 76; Nissen ZBI, 2.