---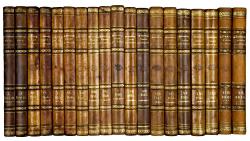 Tabulae Phycologicae oder Abbildungen der Tange.
Eur 7,500 / USD 7,900
The price shown on each item does not include V.A.T (Value Added Tax). As a result of the recent EU legislation we are required to charge our EU customers the percentage of V.A.T. charged by the customer's country of residence, unless they possess a V.A.T. registration number. Postage Additional.
Nordhausen, gedruckt auf Kosten des Verfassers, 1845-1871. 19 volumes. 8vo (215 x 135mm). With 1900(one plate is a drawing) lithographed plates, printed in one colour and explanatory text. Contemporary uniform half calf, spines with gilt letterering.
No complete copies have been offered for sale since decades
A very scare work printed in a very small edition. No complete copies have been offered for sale since decades. Dr. W. Junk offered a complete copy in his Rara catalogue and priced it M. 1000 one of the most expensive items in his catalogue. A few copies were issued with the plates coloured by the author. The present copy has an important provenance and has the bookplate of Carl Friedrich Philipp von Martius (1794-1868), famous German botanical traveller.
Friedrich Traugott Kützing (1807-1893) was a German algologist and teacher at Nordhausen. "In the Tabulae, each volume of which contains 100 plates engraved by Kützing himself, 4,407 species and forms, exclusive of diatoms and desmids, were illustrated. Even today this work still continues to be the best reference on the habit of many species of algae" (D.S.B.).
"Das Werk ist ganz auf Kosten des Verf. Erschienen? Aber alle Arbeit und alles Risico in jeder Beziehung lastete auf dem Autor, der trotz der politischen so ungünstigen Jahrzehnte des Erscheinens des Werkes und trotz vieler persönlicher Unglücksfälle - es ist ergreifend, was er darüber im Vorwort des XI. Bandes schreibt - seine Aufgabe in verhältnismässig raschem Tempo zu Ende führte. Denn die Tabulae' sind - eine Seltenheit bei einem derartig grossen Unternehmen, und noch dazu bei einem, das nur den einen Verfasser hat, - zu Ende gebracht worden? Das Werk ist ausserordentlich selten geworden, besonders aber die letzten Bände" (Junk. Rara p. 139). The book has occasional foxing especially to the text, the plates printed on thicker paper are less affected.

Provenance: Bookplate of C.F.Ph. Martius and library and cancelled stamp on titles.

Stafleu & Cowan 3978 'The book is very rare'. Nissen BBI, 1108.