---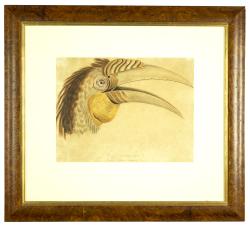 Buceros plicatus Lath. (Wreathed Hornbill), Watercolour on paper c.1827-1837, 25.5 x 33.5 cm - visible image size, 53.0 x 58.5 cm - frame size, framed under glass.
Eur 2,500 / USD 2,800
The price shown on each item does not include V.A.T (Value Added Tax). As a result of the recent EU legislation we are required to charge our EU customers the percentage of V.A.T. charged by the customer's country of residence, unless they possess a V.A.T. registration number. Postage Additional.
Titled in pencil in old handwriting (lower centre): Buceros plicatus Lath, Java (Goenong Parang).
A striking and beautiful drawing of the Buceros plicatus or 'Wreathed Hornbill' (also called 'Plait-billed Hornbill', with its gibbous seven-pleated casque) which was first named by/after the English physician, naturalist and author John Latham (1740-1837), who wrote a.o. 'A General Synopsis of Birds (1781-1801)' and 'General History of Birds (1821-28)'. This hornbill was endemic to Java, Sumatra, Borneo and Malacca.
The head of this hornbill (its present name: Aceros undulatus) is part of a small group of five drawings and watercolours of this species, made in West Java and presently in the collection of Naturalis, Leiden, formerly named the National Museum of Natural History.
All are signed by Dutch artist Pieter van Oort (1804-1834), except this particular image, but Naturalis are confident that their watercolour is the original, and this is a (contemporary) copy by another artist. Three of the five drawings/watercolours in the Naturalis collection are dated 'Buitenzorg 1827' (During the Dutch Colonial era Buitenzorg, now called Bogor, was a hill station in the residency of Batavia, Java, 860 ft above sea-level. It was the summer residence of the governor-general of the Dutch East Indies, and its renowned botanic gardens - established in 1817 - are among the oldest and largest in the world.
Pieter van Oort was born in Utrecht, The Netherlands on 10 October 1804. He was taught by his father, the artist H. van Oort. In 1825 he was appointed official draughtsman to the Natural Sciences Commission, arriving in Jakarta in 1826. He joined the Commission on their travels in West Java, Irian Jaya, Timor and Sumatra. This dedicated draughtsman made numerous drawings of Indonesia, of which many are kept in Dutch public collections. Some of his drawings were used as models for lithographs in C.J.Temminck's 'Verhandelingen over de Natuurlijke Geschiedenis der Nederlandsche Overzeesche Bezittingen' (Leiden, 1839-1847). He died in Padang, Sumatra, September 1834.
The location Goenong Parang shown in the title of this watercolour refers to a mountain and surrounding area in the Purwakarta Regency of West Java, southeast of Jakarta on the upper reaches of the river Tjitarum (Citarum). Goenong - now spelt Gunung - means 'mountain', and the old spelling was widely used in Dutch colonial literature.
The Natural Sciences Commission conducted research in this area early 1827, and its location was described in detail by Hendrik Boie (Dutch, 1794-1827), one of the Commission's scientists, in a published letter dated 12 February 1827.
As to the possible attribution of this watercolour, it is known that several of the Natural Sciences Commission's drawings and watercolours were copied, some in Leiden, some in Buitenzorg (Java). Many of the originals as well as copies have been lost over the years. As the original van Oort watercolour in the Naturalis collection is not signed/dated and does not mention a location, the question arises how/where the artist of this watercolour would have known/obtained the Goenong Parang information?
The answer is that this watercolour would have been made in Buitenzorg, Java, and the location Goenong Parang could only have been known to the following Commission's scientists/collectors/draughtsmen who were active in West Java in 1827 (apart from van Oort):
Hendrik Boie (Dutch, 1794-1827): born in Meldorff (Germany), natural historian, author and draughtsman, came to Indonesia in 1826 as a member of the Natural Sciences Commission (NSC). Died in West Java on 23 August 1827.
Heinrich Christian Macklot (German, 1799-1832): born in Frankfurt, zoologist and draughtsman, came to Indonesia in 1826 as a member of the NSC, travelling through Java, Timor, Irian Jaya, conducting zoological research. Died in Purwakarta, Java, 12 May 1832.
Gerrit van Raalten (Dutch, 1797-1829): born in Harderwijk, anatomist & draughtsman, came to Indonesia in 1820 as a member of the NSC. Lived and worked in Java, and joined a voyage of exploration to East Indonesia and Irian Jaya in 1828. Some of his drawings were later used for Temminck's 'Verhandelingen'. Died in Timor, 17 April 1829.
Salomon Müller (German, 1804-1864): born in Heidelberg, draughtsman, scientist and author, came to Indonesia in 1826 as a member of the NSC, travelling through Sumatra, Java, Timor and Irian Jaya. Left Indonesia in 1837. Several of his drawings were used as models for lithographs in Temminck's 'Verhandelingen'.
Whilst any of these four scientists/draughtsmen could have made this watercolour - which would date it to c. 1827 to 1837 - a strong case may be made for Salomon Müller, a travelling companion of van Oort, and who also wrote a brief description of Buceros plicatus in an article about the various hornbill species in Temminck's 'Verhandelingen', when the name of this particular hornbill is recorded as Buceros plicatus Müller & Schlegel (the Dutch zoologist/draughtsman Hermann Schlegel (1804-74) was a colleague of Salomon Müller and also worked for the NSC in Indonesia).