---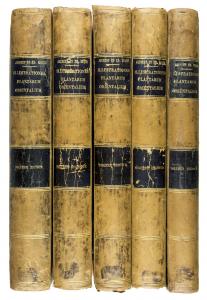 Illustrationes Plantarum Orientalium.
Eur 7,500 / USD 8,300
The price shown on each item does not include V.A.T (Value Added Tax). As a result of the recent EU legislation we are required to charge our EU customers the percentage of V.A.T. charged by the customer's country of residence, unless they possess a V.A.T. registration number. Postage Additional.
Paris, Roret, 1842-1857. 5 volumes. Large-4to (350 x 260mm). With 500 engraved plates. Contemporaryhalf calf, spines with 2 black gilt lettered labels and gilt lines, marbled sides (slightly rubbed).
un des livres les plus precieux pour la Flore d'Orient
A fine copy of this very scarce flora of the Near East (from Greece eastward to Afghanistan and southward to Abyssinia). "This fine work owes its origin to an expedition made in 1839 by the French politician and botanist Count François Hippolyte Jaubert (1798-1874), and his friend Charles F.M. Texier (1802-1871), the archeologist, to Asia Minor. On his return Jaubert decided to publish illustrations of the new and little known species of plants he had collected, with some collected by earlier travellers ... The best botanical artists of Paris - J. and F. Gontier, E. Lesèble, de Ligniville, Maubert, Riocreux, Willy, Mlle. Champeaux, Mesdames Gouffé, Hublier and Spach - were employed for the plates ... All beautifully and accurately drawn and engraved. Historically the most interesting are a number by Claude Aubriet ... Nicolas Robert and Pierre Redouté. Jaubert planned and directed the work and even wrote part of the text, but most of this was done by Edouard Spach" (Journal Soc. Bibl. Nat. Hist. I, 9). Edmond Boissier the famous author of 'Flora Orientalis' considered the 'Illustrationes' "par le soin apporté à la partie descriptive et par la beauté des figures, un des livres les plus precieux pour la Flore d'Orient". Our copy does not have the large folded map, but instead has 10 maps inserted from another work such as 'Carte de la monarchie des Hebreux sous Salomon ou le Royaume d'Israel', 'Carte de l'empire des Perses', 'Carte du Nord de la Judée ou Terre Sainte', 'Carte du Paradis Terrestre' and 'Carte de la Syrie'. First title with 2 repaired cut out pieces, and another page with 1 repaired cut out piece, all without loss of text. The work is always prone to foxing however the present copy is better than other copies we have sold in the past.

Provenance: Library stamp on free endpaper of H. Demirez Bibliyotegi 1952.

Nissen BBI, 958; Stafleu & Cowan 3303.