---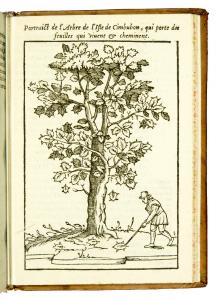 Histoire admirable des plantes et herbes esmerveillable & miraculeuses en nature: mesmes d'aucunes qui sont vrays Zoophytes, ou Plant-animales, Plantes & Animaux tout ensemble,
Eur 10,000 / USD 10,500
The price shown on each item does not include V.A.T (Value Added Tax). As a result of the recent EU legislation we are required to charge our EU customers the percentage of V.A.T. charged by the customer's country of residence, unless they possess a V.A.T. registration number. Postage Additional.
pour avoir vie vegetative, sensitive & animale: Avec leurs Portraicts au naturel, selon les histoires, descriptions, voyages, & navigations des anciens & modernes Hebrieux, Chaldees, Egyptiens, Assyriens, Armeniens, Grecs, Latins, Africains, Arabes, Nubiens, Ethyopiens, Sarrasins, Turcs, Mores, Persans, Tartares, Chinois, Indiens, Portugays, Espagnols, François, Flaments, Anglois, Polonois, Moschovites, Allemans, & Autres. Paris, Nicolas Buon, 1605. 8vo (155 x 110mm). pp. (xxiv), 341, (1 blank), (2, 'Extraict du Privilege du Roi' and verso blank), with printer's device on title and 28 full-page woodcuts in the text. Contemporary calf, spine in 6 compartments, with gilt ornaments and lettering.
charming compilation of accounts of remarkable plants, illustrated with equally remarkable woodcuts
First edition of this charming compilation of accounts of remarkable plants, illustrated with equally remarkable woodcuts. It is an anachronistic, almost mediaeval, work, devoted to the marvels of the vegetable kingdom, and includes such perennials as the vegetable lamb of Tartary and the barnacle goose tree. Duret is especially interested in such 'Zoophytes', i.e. plants that have animal properties, and which transgress the Scholastic distinction between the animal and vegetal. One such plant is a tree whose leaves fall off and walk away (illustrated by a remarkable woodcut 'Portraict de l'Arbre de l'Isle de Cimbubon, qui porte des feuilles qui vivent & cheminent').
'Although the distinction between plant and animal life has been recognized by Aristotle and other writers in antiquity, people found it possible to believe in strange transformations of plants into living beasts - marvels supposedly by travellers to distant lands and illustrated in works such as Claude Duret's 'Histoire admirables...' (such a) myth was that the leaves of the Credulity Tree turn into fish or birds depending on whether they fall in water or on the ground. Among the most frequently repeated stories was that of the Scythian lamb, a shrub that grew in the steppes of Asia. Its woolly blossoms were said to grow in the form of a sheep and at maturity to drop off the stem to become a living beast. According to some authorities the live animal remained fixed to a treelike trunk but grazed on grases growing near it' (MacDougall, 'A Paradise of Plants' in 'The Age of the Marvellous' pp. 147-8).

The work begins with a chapter on the Garden of Eden and the banana tree as the original Tree of Life. 'Numerous American plants are described and identified as such, amongst them cacao and the pineapple' (Alden).
Duret (?-1611) was a naturalist and philologist, born in Moulins, where he lived and practised as a lawyer and civil official. He wrote several books on various topics, such as the history of languages, the rise and fall of empires, and the tides. Copies of this work are mostly found trimmed and it is rare to find a copy with ample margins as the present one. A very fine copy.

Nissen BBI, 571; Pritzel 2553.