---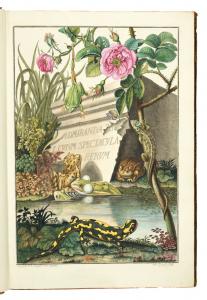 Historia Naturalis Ranarum nostratium.... Die natürliche Historie der Frösche hiesigen Landes worinnen alle Eigenschaften derselben sonderlich aber ihre Fortpflanzung umständlich beschrieben werden. Mit einer Vorrede Herrn Albrechts von Haller.
Eur 23,000 / USD 25,300
The price shown on each item does not include V.A.T (Value Added Tax). As a result of the recent EU legislation we are required to charge our EU customers the percentage of V.A.T. charged by the customer's country of residence, unless they possess a V.A.T. registration number. Postage Additional.
Nürnberg, Johann Joseph Fleischmann, 1758. Folio (425 x 300mm). pp. (8), viii, 115, (1), text in parallel columns in Latin and German, with fine handcoloured engraved frontispiece and 24 hand-coloured engraved plates, each with a plain anatomical key engraved plate, 6 engraved headpieces. Contemporary calf, richly gilt ornamented spine with red gilt lettered label, sides with gilt border and corner pieces.
the most beautiful work published on amphibians
A beautifully bound copy of the first edition of the most beautiful work published on amphibians. 'For instance, Roesel von Rosenhof's illustrations of the frogs and other amphibians have never been surpassed in their beauty, accuracy and vitality. The frontispiece to his 'Historia Naturalis Ranarum' , showing frogs in a pond surrounded by wild roses, is beyond praise' (Dance, Art of Natural History p. 74). "The present volume is one of the classics on amphibiology. The illustrations are the finest and the whole work is admirably done. The title and text appear both in Latin and German and there is a preface by A. von Haller - altogether a very valuable, early contribution to the literature of the batrachia' (C.A. Wood). "These plates must be among the most beautiful illustrations in all of herpetology. The complete life cycle of all species of German frogs and toads is presented in great detail - including amplexing adults and developmental stages of tadpoles - together with their anatomy and osteology"(Adler, K. Contributions to the history of herpetology p. 10).

The excellent plates are by the author, the frogs and toads are from southern Germany and illustrate internal anatomy, skeletons, embryological development, copulation etc. The anatomical key plates closely follow the coloured versions, omitting or adding anatomical details.

Roesel von Roesenhof (1705-1759) was a German artist-naturalist, miniature painter and engraver in Nürnberg, publisher of one of the most beautifully illustrated German entomological works 'Der monatlich-herausgegebenen Insecten-Belustigung ...'. A very fine copy.

Nissen ZBI, 3464; Wood 541.