---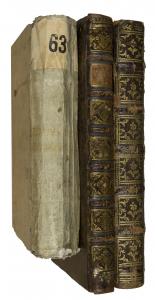 'Manuscript des Schönbrunner Hof-Gärtners Richard van der Schot, ein 1774 begonnenes und bis 1780 ergänztes systematisches Pflanzenverzeichnis nach Linné' & Richardus van derSchot gekregen den 21. November in het jaar 1759.
Eur 12,000 / USD 13,200
The price shown on each item does not include V.A.T (Value Added Tax). As a result of the recent EU legislation we are required to charge our EU customers the percentage of V.A.T. charged by the customer's country of residence, unless they possess a V.A.T. registration number. Postage Additional.
3 manuscript volumes listing plants growing in the Schönbrunn gardens. Together about 450 pages. 8vo. 2 vols. 185 x 112mm and a third volume slightly smaller. Contemporary calf (2 vols.) and contemporary vellum.
plants growing in the Schönbrunn Gardens, the most splendid botanical garden of the period
The 3 volumes are from the famous collection of Ernst Moritz Kronfeld (1865-1942), botanist, writer and collector. Kronfeld decribed the 3 volumes as follows "Auch Hofgärtner Richard van der Schott dokumentierte das botanische Wissen seiner Zeit in drei wertvollen Manuskriptbänden... Die Manuskriptbände sind auch heute noch wissenschaftsgeschichtlich relevant - dokumentieren sie doch die verbreitung von und das Wissen über Pflanzen sowie die Bedeutung Schönnbrunns innerhalb der botanischen Gärten der europäischer Herrscherhäuser" (Schriftenreihe der Kommission für Provenienzforschung 5 pp. 31-70).

Richard van der Schot (1733-1790) of Delft (Holland) was appointed head gardener by Emperor Franz I of the Botanical Gardens at Schönbrunn. Van der Schot had taken with him a great number of exotics purchased from different nurseries in Holland. In 1754 he accompanied Nikolaus Joseph Jacquin to the West Indies to collect plants for the Schönbrunn Garden, the so called Holländischen Garten. In August 1755 the first consignment of plants from Martinique arrived at Schönbrunn and in 1756 van der Schot returned from Martinique with a considerable number of trees and shrubs. The 2 volumes bound in contemporary calf have a manuscript card glued in, as already mentioned above, 'Manuscript des Schönbrunner Hof-Gärtners...' followed by a manuscript title 'Index Systematis Vegetabilium transcriptus a Richardo van der Schot, ex editione decima tertia a 1774...'. The third volume 'Richardus van der Schot....' see above, has many plant names in Dutch and starts with 'November Anijers die den 25 zijn aan gekomen van Buelinck..'. As Van der Schot remained head gardener during the years 1759 to 1780 the plants listed in the manuscript volumes must concern plants growing in the Schönbrunn Gardens, the most splendid botanical garden of the period. On numerous occasions slips have been added and glued in to add new plant names.

See also S. Madrinan, Nikolaus Jospeh Jacquin's American Plants. Botanical Expedition to the Caribbean (1754-1759) and the publication of the Selectarum Stirpium Americanarum Historia. Leiden 2013.