---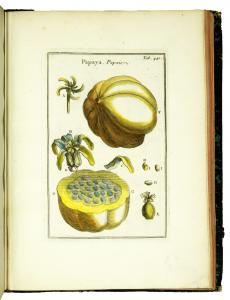 Institutiones Rei Herbariae. Editio Tertia, Appendicibus aucta ab Antonio de Jussieu.
Eur 2,200 / USD 2,200
The price shown on each item does not include V.A.T (Value Added Tax). As a result of the recent EU legislation we are required to charge our EU customers the percentage of V.A.T. charged by the customer's country of residence, unless they possess a V.A.T. registration number. Postage Additional.
Parisiis, e typographia Regia, 1719. 3 volumes. 4to (240 x 180mm). pp. (6), xxxii, 695, (1), (6), 58 with 2 (1 handcoloured) engraved frontispieces, 1 engraved title-vignette, 2 engraved vignettes and 489 engraved plates, almost all in fine contemporary handcolouring. Contemporary green half calf, spines in 6 compartments.
il y a en très peu d'exemplaires avec les planches en couleur
Copies with the plates in contemporary handcolouring are rare. There is an old manuscript note on the free endpaper 'très rare avec les planches coloriées qu'on ne rencontre jamais, il y a en très peu d'exemplaires avec les planches en couleur'. The present edition is in fact the second Latin edition, the first edition refers to the 'Élémens de botanique'; Hunt 450: "Tournefort's significance lies in the fact of having classified all plants into genera. Hundreds of the generic names coined or accepted by him were later adopted by Linnaeus and are in use today ..."
Tournefort's genera have largely been retained (he accepted 725), by leading taxonomists of the 18th century. Almost one-third of the genera of French flora derive from Tournefort. His herbarium, 6.963 species, is one of the treasures of the Muséum d'Histoire Naturelle at Paris. The plates, all by C. Aubriet, "gehören in ihrem klaren und doch so eleganten Aufbau zu dem erstaunlichsten, was die vor-linneische Botanikmalerei aufzuweisen hat, ..." (Nissen BBI, p. 98). Also Blunt speaks highly of Aubriet and calls his drawings remarkable for the accuracy of their dissections.

Stafleu & Cowan, 14.783.