---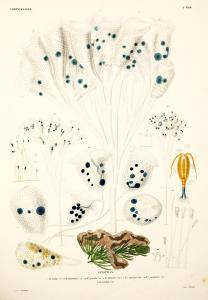 Die Infusionsthierchen als vollkommene Organismen.
Eur 6,000 / USD 6,000
The price shown on each item does not include V.A.T (Value Added Tax). As a result of the recent EU legislation we are required to charge our EU customers the percentage of V.A.T. charged by the customer's country of residence, unless they possess a V.A.T. registration number. Postage Additional.
Ein Blick in das tiefere organische Leben der Natur. Leipzig, L. Voss, 1838. 2 volumes (text & atlas). Folio (457 x 335mm). pp. xviii, (4), 547, (1), with 1 engraved separate atlas-title and 64 hand-coloured engraved plates. Contemporary green half calf, gilt ornamented spines with gilt lettering.
splendidly produced work on Infusiora
First and only edition of this splendidly produced work on Infusiora."Ehrenberg's great contribution to biology was his work on the infusiora, the results of which were published originally in a number of brief essays and afterwards in the important and splendid work entitled 'Die Infusionsthierchen' printed in 1838. The result of this and other works of his was that the number of known Infusiora was considerably increased, and their classification essentially advanced" (Nordenskiöld p. 427). The excellent plates are all after Ehrenberg's own drawings. Ehrenberg studied at the University of Berlin (M.D., 1818) and was associated with the university throughout his career. He took part in a scientific expedition (1820?25) to Egypt, Libya, the Sudan, and the Red Sea under the auspices of the university and the Prussian Academy of Sciences. The expedition?s only survivor, he collected about 34,000 animal- and 46,000 plant specimens. With Alexander von Humboldt, he participated in 1829 in an expedition, sponsored by Tsar Nicholas I of Russia, to Central Asia and Siberia. For nearly 30 years Ehrenberg examined samples of water, soil, sediment, blowing dust and rock and described thousands of new species, among them well-known flagellates such as Euglena, ciliates such as Paramecium aurelia and Paramecium caudatum, and many fossils, in nearly 400 scientific publications. He was particularly interested in a unicellular group of protists called diatoms, but he also studied, and named, many species of radiolaria and foraminifera.
After his death in 1876, his collections of microscopic organisms were deposited in the Museum für Naturkunde at the University of Berlin. The "Ehrenberg Collection" includes 40,000 microscope preparations, 5,000 raw samples, 3,000 pencil and ink drawings, and nearly 1,000 letters of correspondence.
Some occasional foxing in the text volume, not in the atlas volume. Stamps on title-pages.

Provenance: Name of Eschricht 1849, probably Daniel Frederik Eschricht, Danish zoologist on free endpaper and an old stamp of H. Adolph Meyer on title.

Garrison & Morton 111; Nissen ZBI, 1244.