---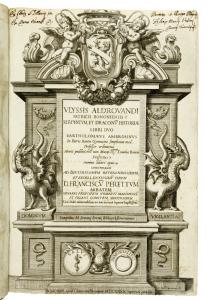 Serpentum, et Draconum Historiae libri duo...
Eur 3,800 / USD 4,000
The price shown on each item does not include V.A.T (Value Added Tax). As a result of the recent EU legislation we are required to charge our EU customers the percentage of V.A.T. charged by the customer's country of residence, unless they possess a V.A.T. registration number. Postage Additional.
Bononiae, apud Clementem Ferronium, 1640. Folio (340 x 232mm). pp. (10), 427, (1), (28), with engraved frontispiece and 61 woodcuts in the text of which some full-page. 18th century half calf, spine with red and blue gilt lettered labels (top of spine slightly worn).
First edition of this beautifully illustrated early work on snakes
First edition of this beautifully illustrated early work on snakes. It forms a special volume of Aldrovandi's 'Opera' published in 13 volumes. Only 4 volumes have been published during Aldrovandi's lifetime. "Although Aldrovandi is not identified with any revolutionary discoveries, his work as a teacher and as the author of volumes that constitute an irreplacable cultural patrimony earns him a place among the fathers of modern science. Perhaps most importantly he was among the first to attempt to free the natural sciences from the stifling influence of the authority of textbooks, for which he substituted, as far as possible, direct study and observation of the animal, vegetable, and mineral worlds" (D.S.B. I, pp. 108-110).

Provenance: Free endpaper contemporary manuscript note 'Bibliotheca di S. Maria in Portico' dated 1646 and title with manuscript note 'Lanza di Marzzarino'.

Nissen ZBI, 78; Wood p. 185.