---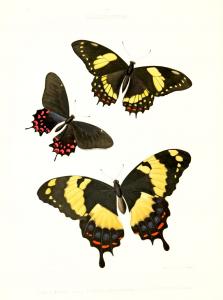 The genera of Diurnal Lepidoptera: comprising their generic characters, a notice of their habits and transformations, and a catalogue of the species of each genus.
Eur 19,000 / USD 20,900
The price shown on each item does not include V.A.T (Value Added Tax). As a result of the recent EU legislation we are required to charge our EU customers the percentage of V.A.T. charged by the customer's country of residence, unless they possess a V.A.T. registration number. Postage Additional.
London, Longman, Brown, Green, and Longmans, 1846-1852. 2 volumes. Folio (375 x 270mm). pp. xi, (1), 1-250; (2), 251- 534, with 86 lithographed plates of which 85 splendidly handcoloured. Contemporary green half morocco, richly gilt decorated spines in 6 compartments, marbled sides (minor skilful repair to bindings).
The number of new species figured by Doubleday is very considerable, and is even larger than appears at first sight
A scarce Large Paper copy of one of the rarest and most beautiful iconographies on butterflies. The magnificently handcoloured plates were drawn and lithographed by William C. Hewitson. Hewitson was a very wealthy naturalist and formed the most complete collection of diurnal lepidoptera of the world (now in the British Museum). "Hewitson was a most accomplished artist and scrupulously accurate draughtsman, and his figures, whether of birds' eggs or butterflies, are drawn and coloured with conscientious care ... In his own line, as a pictorial describer of butterflies, Hewitson stands unrivalled" (DNB. IX pp. 758-59). The work was published in 54 parts. The first 31 parts by Doubleday and due to his early death the work was continued by Westwood. The work is fully discussed by F. Hemming in the "Journal of the Soc. for Bibl. of Nat. Hist. Vol. I,11. pp. 335-464". 'The number of new species figured by Doubleday is very considerable, and is even larger than appears at first sight' (Hemming).
"Westwood remarked that the butterfly collection of the British Museum was 'one of the finest ever formed', and Doubleday based his work on that collection, gaining other information. Particularly on butterfly habits, from manuscripts and drawings also in the British Museum. The famous collection of drawings by John Abbot painted in America and sent to England, plus those of General Hardwicke's collection of Indian drawings gave much of this information"(Gilbert. Butterfly Collectors and Painters p. 82). The first plate, an anatomical plate, was never coloured. A fine copy without any foxing.

Horn & Schenkling 5034: "Sehr selten"; Nissen ZBI, 1150.