---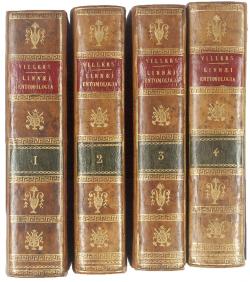 Entomologia, Faunae Suecicae descriptionibus aucta; DD. Scopoli, Geoffroy, de Geer, Fabricii, Schrank, &c.speciebus vel in Systemate non enumeratis, vel nuperrime detectis, vel speciebus Galliae Australis locupletata, generum specierumque rariorum iconibus ornata; Curante & augente Carolo de Villers.
Eur 1,800 / USD 2,000
The price shown on each item does not include V.A.T (Value Added Tax). As a result of the recent EU legislation we are required to charge our EU customers the percentage of V.A.T. charged by the customer's country of residence, unless they possess a V.A.T. registration number. Postage Additional.
Lugduni (Lyon), Piestre et Delamolliere, 1789. 4 volumes. Royal-8vo (195 x 120mm). (I:) pp. xvi, 765, (1), with 3 folded tables and 3 folded engraved plates; (II:) pp. xvi, 4, 656, with 4 folded tables and 4 folded engraved plates; (III:) pp. 657, with 4 folded tables and 4 folded engraved plates; (IV:) pp. (2), 556, ccxiii, with 1 folded table and 1 folded engraved plate. Contemporary calf, richly gilt decorated spines with green and red gilt lettered labels, sides with gilt borders (old very skilful repair to hinges).
This edition is of special value since the works of the authors mentioned on the title-page have been partly incorporated here. "Charles Joseph de Villers (1724-1810) fait paraître en 1789 à Lyon 'Caroli Linnaei entomologia...' C'est un ouvrage in-octavo en 4 volumes avec 11 planches, souvent cités avec les écrit de Linné, qui est en réalité une ?uvre différente intégrant les travaux de nombreux entomologistes et comportant des descriptions originales d'espèces du sud de la France. Il comporte aussi une rubrique 'Nomenclator entomologicus' qui propose des correspondances entre les ouvrages de plusieurs auteurs" (Aguilar. Histoire de l'entomologie p. 156). A beautifully bound copy by Tessier.

Provenance: Bookplate of J. d'Aguilar and Achille Guenée.

Soulsby 110, Nissen ZBI, 2519.