---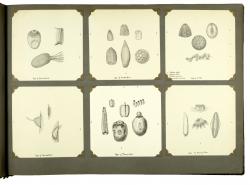 A collection of 265 fine original drawings published in various entomological journals from about 1900-1936.
Eur 2,800 / USD 3,100
The price shown on each item does not include V.A.T (Value Added Tax). As a result of the recent EU legislation we are required to charge our EU customers the percentage of V.A.T. charged by the customer's country of residence, unless they possess a V.A.T. registration number. Postage Additional.
Oblong folio (305 x 425mm). Half leather.
The drawings, the majority concern scale insects, are extremely precise and detailed
Edward Ernest Green (1861-1949) was an English entomologist. "Born in Ceylon, he was educated at Charterhouse School. He returned to Ceylon in 1880 to manage his father's plantations. Green developed a keen interest in mycology and entomology related to coffee and tea growing. On his retirement in 1913 he returned to England and expanded his collections of scale insects. His publications included 'The Coccidae of Ceylon' (1896-1922) and over 200 papers" (Harvey, Gilbert & Martin. A catalogue of manuscripts in the entomology library of the Natural History Museum, London p. 90). The Natural History Museum has Green's original drawings for 'The Coccidae of Ceylon'. He also published a work on the 'Tea Mites' (1900). All the drawings have been mounted, and a few have come loose. The drawings, the majority concern scale insects, are extremely precise and detailed and many concern the gender of the insects. Green's collection of Heteroptera from Ceylon is in the Indian Museum in Calcutta and his Microlepidoptera and Coleoptera from Ceylon are in the Natural History Museum in London.

Provenance: The drawings were offered for sale in Wheldon & Wesley's catalogue 208 no. 51 (1995) and purchased by Kikumaro Okano.