---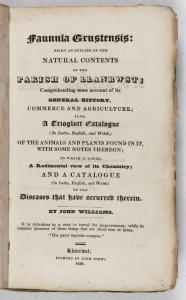 Faunula Grustensis: being an outline of the natural contents of the Parish of Llanrwst; Comprehending some account of its general history, commerce and agriculture; also, a trioglott catalogue (in Latin, English, and Welsh) of the animals and plants found in it, with some notes thereon...
Eur 650 / USD 700
The price shown on each item does not include V.A.T (Value Added Tax). As a result of the recent EU legislation we are required to charge our EU customers the percentage of V.A.T. charged by the customer's country of residence, unless they possess a V.A.T. registration number. Postage Additional.
Llanrwst, John Jones, 1830. Small-8vo (150 x 95mm). pp. 148. Publisher's printed boards.
A very rare local natural history of Wales cataloguing all birds, animals and plants to be found in the parish of Llanwrst. John Williams (1801-1859) naturalist and physician was born in Llansanffraid, in the Conwy valley, north Wales.