---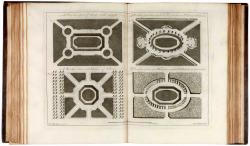 The Theory and Practice of Gardening: Wherein is fully handled all that relates to Fine Gardens, commonly called Pleasure-Gardens, as Parterres, Groves, Bowling-Greens, &c. Containing divers Plans, and general Dispositions of Gardens.... With the manner of laying out the Grounds, cutting the Terrasses... the method of Planting, and raising, in little time, all the Plants requisite in Fine Gardens... Done from the French Original, printed at Paris, Anno 1709. By John James of Greenwich.
Eur 3,500 / USD 3,900
The price shown on each item does not include V.A.T (Value Added Tax). As a result of the recent EU legislation we are required to charge our EU customers the percentage of V.A.T. charged by the customer's country of residence, unless they possess a V.A.T. registration number. Postage Additional.
London, Printed by Geo. James, 1712. 4to (252 x 200mm). pp.(16), 218, (2), with 32 double- or folded plates. Contemporary calf, richly gilt spine in 6 compartments with red gilt lettered label, sides with gilt borderlines with coronet corner-pieces (old repair to hinges).
The most important work on garden design in the eighteenth century
Rare first English edition of Dezallier d'Argenville's 'La théorie et la pratique du jardinage', which was published anonymously in 1709 like the present first English edition. The most important work on garden design in the eighteenth century, with plates after designs by Alexandre Le Blond. The work popularized the manner of Le Nôtre and his school in the laying out of ornamental gardens: parterres, bosquets, fountains, basins, and cascades. André Le Nôtre (1613-1700) designed or redesigned the gardens of Versailles, the Tuileries and Fontainebleau. The book ran to 11 editions, in three languages. "The English version of d'Argenville's work first appeared in London in 1712. The translator was the noted London architect John James... It is well produced on good quality paper and profusely illustrated, the plates being the same as those in the original French work, but re-engraved by Michael van der Gucht... 'The theory and practice of gardening' deals fully with the design and formation of fine gardens, commonly called pleasure-gardens.. [and] must have been the inspiration of many formal gardens designed in England during the early part of the eighteenth century..."(Henry II, p. 493-495). A fine copy in a beautiful contemporary binding of noble provenance.

Henry 1426 & II pp. 491-495.