---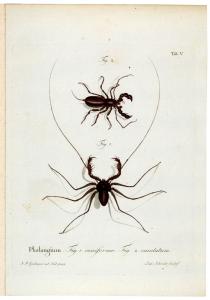 Natursystem der ungeflügelten Insekten.
Eur 2,500 / USD 2,800
The price shown on each item does not include V.A.T (Value Added Tax). As a result of the recent EU legislation we are required to charge our EU customers the percentage of V.A.T. charged by the customer's country of residence, unless they possess a V.A.T. registration number. Postage Additional.
Berlin, G.A. Lange, 1797-1800. 4 parts (bound in one). 4to (275 x 215mm). pp. viii, 88; pp. iv, 26;pp. (2), 30; pp. (4), 86, with 23 fine handcoloured engraved plates. Contemporary marbled boards, red gilt lettered label on spine (head of spine a bit worn).
A very scarce work with excellent plates
A very scarce work with excellent plates intended according to the introduction as a kind of supplement to Herbst's equally rare work 'Naturgeschichte der Krabben und Krebse'. The four parts have the following subtitles: I. Naturgeschichte der Insekten-Gattungen Solpuga und Phalangium; II. Naturgeschichte der Insecten-Gattung Opilio; III. Fortsetzung der Naturgeschichte der Insectengattung Opilio; IV. Naturgeschichte der Skorpionen. The first part is written by Lichtenstein and Herbst, the following parts are by Herbst alone. "In the meanwhile W. Herbst, a German entomologist, had given fuller treatment to the 'Afterspinnen', or near-spiders, and in Volume III (1799) of his 'Natursystem der ungeflügelten Insekten', ... he described twenty-eight species, illustrated by unusually clear figures. Herbst discarded the old name Phalangium, on the insufficient grounds that it had been used by the ancient writers as a name for true spiders, and replaced it by Opilio, of which genus he is thus the author" (Savory p. 56). Johann Friederich Wilhelm Herbst (1743-1807) was a German naturalist, theologian and a chaplain for the Prussian army.

Nissen ZBI, 1895; Junk Rara, 10.