---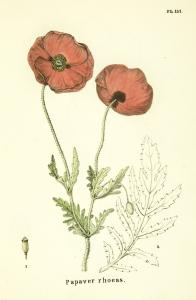 Afbeelding der Artsenij-Gewassen, welke in de Nederlandsche Apotheek als zoodanige vermeld zijn. Naar de beste Uitlandsche Afbeeldingen geteekend en op steen gebragt.
Eur 2,800 / USD 3,100
The price shown on each item does not include V.A.T (Value Added Tax). As a result of the recent EU legislation we are required to charge our EU customers the percentage of V.A.T. charged by the customer's country of residence, unless they possess a V.A.T. registration number. Postage Additional.
Leyden, Du Mortier en Zoon, 1832-1838. 4 volumes bound in two. Folio (340 x 240mm). With 265 fine handcoloured lithographed plates. Contemporary half cloth.
Only 116 copies were subscribed and probably 130 copies were printed
One of the first scientific works with lithographed plates published in the Netherlands. The fine plates are after drawings by the author. Only 116 copies were subscribed and probably 130 copies were printed. It was issued in 53 parts and published over a period of 5 years. The publishing history of the work is complex. The first 5 plates were printed by Van Sander and Co. and published by J.C. Sepp and Son. Sepp discontinued the publication which was taken over by Mortier. Mortier issued the first 5 plates again. For this reason copies are sometimes found with 5 extra plates, and hence most bibliographies quote the wrong number of plates. Landwehr gives 266 plates, which is incorrect as plate 232 was never published. In the lists of plates in volume IV plate 232 is not listed. A fine and clean complete copy.

Landwehr 6; Nissen BBI, 39.