---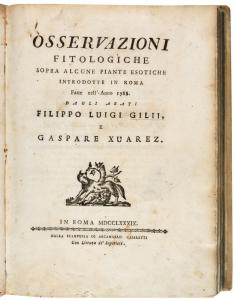 Osservazioni fitologiche sopra alcune piante esotiche introdotte in Roma fatte nell'Anno 1788, 1789, 1790.
Eur 9,500 / USD 10,500
The price shown on each item does not include V.A.T (Value Added Tax). As a result of the recent EU legislation we are required to charge our EU customers the percentage of V.A.T. charged by the customer's country of residence, unless they possess a V.A.T. registration number. Postage Additional.
Roma, Stamperia di Arcangelo/ Stamperia Giunchiana, 1789-1792. 3 volumes, bound in one. 4to (245 x 180mm). pp. 64; (2), viii, 99, (1, blank); (4), 64, with publisher's woodcut device on titles and 30 fine engraved plates. Contemporary vellum, spine with blue gilt lettered label.
a work on the value of American (primarily South American) cultivated plants
A very rare item and as far as we know there has not been a copy on the market since decades. The fine plates are by L. Maioli after C. and A. Maioli.
"Gilii, Filippo Luigi (1756-1821) Italian naturalist, clergyman, and Director of the Vatican Observatory. For twenty-one years Gilii made twice daily meteorological readings at the Observatory, and it was Gilii who had the meridian line and obelisk placed in front of St. Peter's for readings of the seasons. With the first Argentinean botanist, Gaspar Xuarez (1731-1804), Gilli co-authored the three volumes of Observazioni Fitologiche (1789, 1790, 1792) a work on the value of American (primarily South American) cultivated plants, their sexuality, form of reproduction, anatomy, etc. Most of the plants had been cultivated by the natives before the discovery of America and some were grown in the Vatican gardens. As the following information shows, it was Filippo Luigi Gilii's co-authoring of Observazioni Fitologiche that brought him to the attention of Ruiz and Pavon and earned him such respect in their eyes that they dedicated the genus Gilia to him" (Quotation copyright and from Al Schneider, www.swcoloradowildflowers.com . See the section "Biographies of Scientists and Explorers Honored in the Name of Plants"). Very light marginal worming to first 3 leaves. A fine copy.

Nissen BBI, 706; Pritzel 3332.