---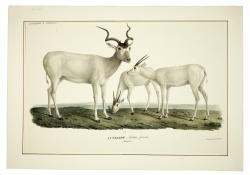 [Symbolae Physicae, seu icones et descriptiones corporum naturalium novorum aut minus cognitorum, quae ex itinere per Libyam, Aegyptum, Nubiam, Dongolam, Syriam, Arabiam et Habessiniam ...]. Berlin 1828-1900.
Eur 3,900 / USD 4,300
The price shown on each item does not include V.A.T (Value Added Tax). As a result of the recent EU legislation we are required to charge our EU customers the percentage of V.A.T. charged by the customer's country of residence, unless they possess a V.A.T. registration number. Postage Additional.
2 original drawings of Antilopes of the above work titled 'Antilope Dama' [by F. Bürde]. The first plate measures 310 x 450mm and is an ink wash drawing over pencil of a group of 4 Antilopes. Of the animal in the foreground the exact measures of length of legs, head etc are marked in pencil. The second plate measures 290 x 420mm and is a elaborate pencil drawing almost idential to the first drawing but adding one antilope to the group. This drawing is dated 18 February 1828 and also titled 'Antilope Dama'.
The 2 plates are the orginal drawings for plate 6 of the mammalia section of Ehrenberg's work. This plate was drawn and lithographed by F. Bürde. The first orginal ink wash plate has an illegible signature. Added to the group of the 2 original drawings is a proof plate, a fine handcoloured lithograph, 'Antilope Addax femina. Dongala', which is plate IV of the mammalia section.
"The journey led through the Libyan desert to Cyrenaica, to Fayum in 1821, toward the Nile to Dongola, and the shores of the Red Sea (in 1823) and yielded an unexpected large body of scientific result. Of the animal species alone, 3.987 (34.000 individual zoological objects) were sent to the collections of the Berlin Zoological Museum..." (DSB). Ehrenberg was the only survivor of the expedition.

B.M.(N.H.) II, 515; Junk Rara 138.