---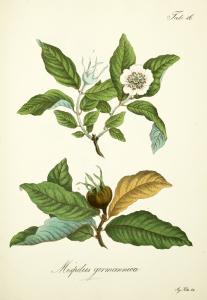 Vollständige Beschreibung und Abbildung der sämmtlichen Holzarten, welche im mittlern und nördlichen Deutschland wild wachsen. Zweite Ausgabe.
Eur 4,900 / USD 4,900
The price shown on each item does not include V.A.T (Value Added Tax). As a result of the recent EU legislation we are required to charge our EU customers the percentage of V.A.T. charged by the customer's country of residence, unless they possess a V.A.T. registration number. Postage Additional.
Braunschweig, Oehme & Müller, 1846. Folio (364 x 265mm). pp. viii, 460, with 150 fine handcoloured lithographed plates. Contemporary green half morocco, gilt lettered spine in 5 compartments.
beautifully produced work on German forest trees and shrubs
The first edition was published in 1826. This second edition is in fact the remaining stock of the first edition with a new title and a supplementary half page preface. A beautifully produced work on German forest trees and shrubs. Little is known about Krebs apart that he was 'herzoglich Braunschweiger Forstschreiber'. Between 1770 and 1850 forestry became a popular subject in Germany and some major works appeared in this period by authors as, Oelhafen, Burgsdorff, Wangenheim, Kerner, Dietrich and some others. The above is one of the rarest of this group of publications and there was neither a copy in the Plesh- nor in the de Belder collection. There is a large section on roses comprising eight plates and amongst others a sections on prunes, cherries, pears and red berries. The plates are by A. Kohte and lithographed by Arckenhausen, Oehme and Müller a.o.

Lacking piece of paper at the right upper corner of the title page without loss of text and one text page with marginal tear.

Great Flower Books p. 63; Nissen BBI, 1104; Stafleu & Cowan 3928.