---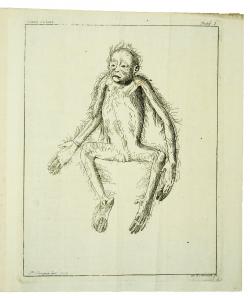 Naturgeschichte des Orang-Utang und einiger andern Affenarten, des Africanischen Nashorns und des Rennthiers. Ins Deutsche übersetzt, und mit den neuesten Beobachtungen des Verfassers herausgegeben von J.F.M. Herbell.
Eur 1,950 / USD 2,300
The price shown does not include 9% V.A.T. As a result of the EU legislation we are required to charge our EU customers 9% V.A.T., unless they possess a V.A.T. registration number.
Düsseldorf, bei J.C. Danzer, 1791. 4to (253 x 205mm). pp. 224, with 9 folded engraved plates. Contemporary calf, floral gilt spine with 2 labels.
the first dissection of the Orang-Utan
First German edition of the first dissection of the Orang-Utan. "Camper procured as many specimens as he could possibly get of the orang-utan, at that time extremely rare in Europe, and he not only dissected a number of them, but closely studied a live specimen. As a result of especially careful investigations into the musculature of the extremities and the structure of the larynx, he proved conclusively that the animal is unable to walk upright" (Nordenskiöld). Pieter Camper (1722-1789) was one of the most famous 18th century Dutch physicians. Small circular stamps on verso of title. A fine copy.

Nissen ZBI, 800.