---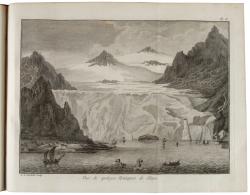 Voyage au Pole Boréal, fait en 1773, par ordre du Roi d'Angleterre.
Eur 950 / USD 1,000
The price shown on each item does not include V.A.T (Value Added Tax). As a result of the recent EU legislation we are required to charge our EU customers the percentage of V.A.T. charged by the customer's country of residence, unless they possess a V.A.T. registration number. Postage Additional.
Paris, Saillant & Nyon/ Pissot, 1775. 4to (248 x 200mm). pp. xii, 259, (1), with 12 folded engravedplates and many folded tables. Contemporary mottled calf, gilt ornamented spine with red gilt lettered label, sides with gilt borders.
A fine copy of the first French edition. The original English edition was published in 1774. "... the official account written by Captain Phipps, later Lord Mulgrave. This expedition of the 'Race-horse' and 'Carcass', undertaken for the purpose of discovering a route to India through the northern polar regions, was blocked by pack ice north of Spitzbergen. The valuable appendix gives geographical and meteorological observations, zoological and botanical records, accounts of distillation of fresh water from the sea, and astronomical observations. The voyage is perhaps best remembered for the presence of the young Horatio Nelson, as midshipman on board the 'Carcass', and his encounter with a polar bear" (Hill 1351). Pages 187 to 208 cover natural history, describing mammals, including whales, birds, amphibians, fishes, insects, crustacea, invertebrates, shells and plants. Plate 11 shows a crustacea and plate 12 two shells.