---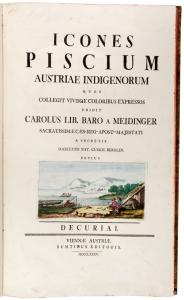 Icones Piscium Austriae Indigenorum quos collegit vivisque coloribus expressos.
Eur 15,000 / USD 18,000
The price shown does not include 9% V.A.T. As a result of the EU legislation we are required to charge our EU customers 9% V.A.T., unless they possess a V.A.T. registration number.
Vienna, sumtibus Editoris/ apud Wapplerum Bibliopolam, 1785-1790. Decuria I-IV (of V). With 4 handcoloured engraved vignettes of fishing scenes on titles and 40 superb handcoloured engraved plates. Contemporary boards (parts 1-3) and blue blind wrappers (part 4).
The work describes the indigenous fishes of Austria
Achille Valenciennes' copy of one of the rarest and most beautiful publications on fishes. The work describes the indigenous fishes of Austria. A fifth part was published with 10 plates in 1794. The plates are after drawings by J. Lachenbauer and Martin Sedelmayer and engraved by Fr. Assner. Sedelmeyer was one of Nicolaus Jos. Jacquin's favourite artists. The colouring of the plates is outstanding using body colours heightened with gum arabic.

On the inside of the frontcover the following is written: 'Pour Monsieur Valenciennes aide- naturaliste au Musée d'histoire naturelle au Jardin des Plantes à Paris'. Valenciennes was a famous French ichthyologist.

Nissen, Schöne Fischbücher 95; Dean II, 126.