---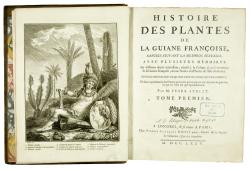 Histoire des Plantes de la Guiane Françoise, rangées suivant la méthode sexuelle, avec plusieurs mémoires sur différens objects intéressans, relatifs à la Culture & au Commerce de la Guiane Françoise ...
Eur 17,000 / USD 18,700
The price shown on each item does not include V.A.T (Value Added Tax). As a result of the recent EU legislation we are required to charge our EU customers the percentage of V.A.T. charged by the customer's country of residence, unless they possess a V.A.T. registration number. Postage Additional.
Londres/ Paris, P.F. Didot jeune, 1775. 4 volumes (2 text volumes & 2 volumes of plates). 4to (250 x 194mm). pp. (4), 32, 1-621; (3), 622-976, 52, 160, with engraved frontispiece and 392 fine engraved plates. Contemporary mottled calf, richly gilt floral ornamented spines, with 2 red and green labels, covers with gilt borderlines.
the first flora of French Guiana, profusely illustrated with excellent plates
A fine copy of the first flora of French Guiana, profusely illustrated with excellent plates. "Aublet's further words on the conditions under which a naturalist worked in the French possessions are almost identical to those of Adanson with respect to his Senegalese years; the scorn of the other settlers, the absence of chances of financial reward, the hard-boiled mercenary attitude of his 'colleagues'. In addition to that are the hardships of trying to botanize in the tropical jungle with its - at that time - almost unknown hazards. ... The 'Histoire' of 1775 is written, characteristically, in French and in Latin ... it is remarkable that Aublet's book is fully Linnaean both with respect to taxonomy (the sexual system and the generic delimitations) and to nomenclature. It contains the descriptions of not less than 400 new species ... it is still the basis for the study of the flora of the Guiana region" (Stafleu. Linnaeus and the Linnaeans, p. 283).
"It is clear that Fusée Aublet should be considered one of the 'founding fathers' of neotropical ethnobotany. Although most botanists think of his 'Histoire des Plantes de la Guiane Françoise' as a taxonomic treatise, Aublet was in fact sent to French Guiana as an Apothecary-Botanist. His book describes uses of 124 species from 56 different families. That he employed many of the plants himself and that he used many of the vernacular names as the bases for his Latin names seems to indicate a high regard for the botanical sophistication of his indigenous colleagues" (Plotkin, Boom & Allison. The Ethnobotany of Aublet's 'Histoire des Plantes...' p. 2).

A very few leaves with some minor old marginal paper repair. Titles with small old library stamp.

Stafleu & Cowan 206; Nissen BBI, 54.