---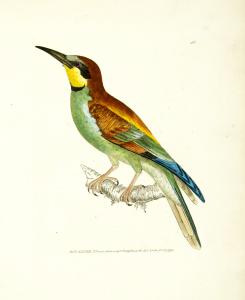 The Birds of Great Britain, systematically arranged, accurately engraved, and painted from nature; with descriptions, including the natural history of each bird. Les Oiseaux de la Grande Brétagne, rangés dans un ordre systématique....
Eur 5,500 / USD 6,600
The price shown does not include 9% V.A.T. As a result of the EU legislation we are required to charge our EU customers 9% V.A.T., unless they possess a V.A.T. registration number.
London, J. Johnson, 1800-1796-1801. 8 volumes, bound in 4. 4to (270 x 220mm). With 1 handcoloured engraved frontispiece and 335 handcoloured engraved plates. Near contemporary half calf, spines with gilt bird ornaments and gilt lettering in 6 compartments (hinges skillfully repaired).
one of the finest English bird books
The second edition and the first edition with the text likewise in French of one of the finest English bird books. "In the present edition the text is printed both in English and French and comprises a brief description of the birds figured and a brief mention of their natural history, which is said to be composed chiefly from original observations by the author and his sons" (Anker 306). Of the 336 beautifully handcoloured plates 58 show eggs. "Lewin, according to Swainson, was 'the best zoological painter, and one of the most practical naturalists, of his day.' He was patronised by the Duchess of Portland (from whose collection he drew the eggs for his greatest work) and various eminent men of his day." (Mullens & Swann. A Bibliography of British Ornithology pp. 349-350). Plate 15 of the plates of eggs was never published.

Fine Bird Books 91; Nissen IVB, 562