---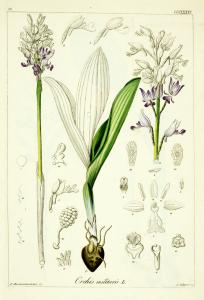 Die Orchideen der deutschen Flora nebst denen des übrigen Europa, des ganzen russischen Reichs und Algiers also ein Versuch einer Orchideographie Europas.
Eur 4,500 / USD 5,200
The price shown does not include 9% V.A.T. As a result of the EU legislation we are required to charge our EU customers 9% V.A.T., unless they possess a V.A.T. registration number.
Leipzig, Friederich Hofmeister, 1851. 4to (265 x 170mm). pp. (4), xii, 240, with 170 engraved plates of which 165 partially handcoloured. Contemporary cloth, gilt lettered spine.
The coloured issue is scarce
After John Lindley's death Heinrich Gustaf Reichenbach became the 'Orchid King'. Orchid specimens from all over the world were sent to him for identification, these with his sketches and copious notes went to build up an immense herbarium. "Though best known as an orchidologist, botanists in general owe him a debt of gratitude for his collaboration in his father's 'Icones'" (Reinikka, History of Orchids p. 215). The present work was issued in a plain and coloured edition, it forms vols. XIII of the 'Deutschlands Flora...', and this section on orchids was wholly by him. This task, his preface says, occupied him ten years. The coloured issue is scarce, and always has 5 plates not coloured.

Stafleu & Cowan 8885; Nissen BBI, 1604.