---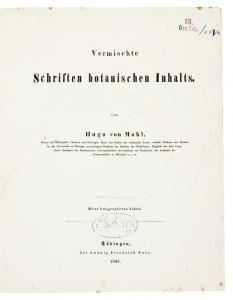 Vermischte Schriften botanischen Inhalts.
Eur 500 / USD 600
The price shown on each item does not include V.A.T (Value Added Tax). As a result of the recent EU legislation we are required to charge our EU customers the percentage of V.A.T. charged by the customer's country of residence, unless they possess a V.A.T. registration number. Postage Additional.
Tübingen, L.F. Fues, 1845. 4to (262 x 215mm). pp. viii, 442, with 13 (5 partly coloured) lithographed plates drawn by the author. Contemporary marbled boards.
First edition. Hugo von Mohl (1805-1872) was one of the most prominent German botanists of the 19th century known for his oustanding research on plant physiology and plant anatomy. The present rare work consists of 31 papers originally published elsewhere, sometimes revised and augmented. "In 1832 he was appointed professor of physiology at Bern and in 1835 professor of botany at Tüblingen, a chair he occupied until his death. Molh's scientific work deals with extremely diverse areas of botany. Among them he devoted himself to the technical problems of the microscope that he was able to construct... After a century Mohl remains famous for his works on the microscopic anatomy of plants and for his contributions to knowledge of the plant cell" (DSB). In recent years von Mohl's theory has received remarkable confirmation from the results of X-ray studies on cell walls. Stamp on title.

Stafleu & Cowan 6187.