---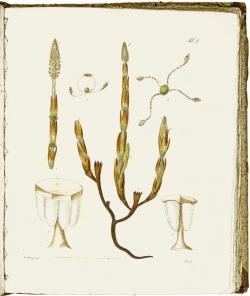 Theoria Generationis et Fructificationis Plantarum Cryptogamicarum Linnaei. Retractata et aucta.
Eur 3,500 / USD 3,900
The price shown on each item does not include V.A.T (Value Added Tax). As a result of the recent EU legislation we are required to charge our EU customers the percentage of V.A.T. charged by the customer's country of residence, unless they possess a V.A.T. registration number. Postage Additional.
Lipsiae, ex officina Breitkopfio - Haerteliana, 1798. 4to (265 x 220mm). pp. xii, 268, with 1 plainplate of instruments and 42 fine handcoloured engraved plates. Contemporary half calf, gilt ornamented spine in 6 compartments (repair at head of spine).
'Epochmaking' work by the founder of modern bryology
Second enlarged edition. The first edition was published in St.Petersburg in 1784 with 37 plates. 'Epochmaking' work by the founder of modern bryology. Hedwig "succeeded in describing in great detail the organs of reproduction and sometimes also the processes of fertilization of some of the algi, fungi, bryophytes and pteridophytes. He published his results in his 'Fundamentum historiae naturalis muscorum frondosorum' of 1782 and especially in his epochmaking 'Theoria generationis et fructificationis plantarum cryptogamicarum' (Stafleu p. 255). The works were "illustrated by the most accurate and beautiful figures of cryptogams yet produced by anyone" (Morton). Small tear in plain plate. Text a bit browned.

Stafleu & Cowan 2526.