---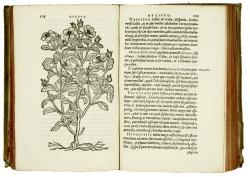 Florum, et Coronariarum Odoratarumque nonnullarum herbarum historia. Altera editio.
Eur 1,800 / USD 2,000
The price shown on each item does not include V.A.T (Value Added Tax). As a result of the recent EU legislation we are required to charge our EU customers the percentage of V.A.T. charged by the customer's country of residence, unless they possess a V.A.T. registration number. Postage Additional.
Antwerp, C. Plantin, 1569. 8vo (165 x 107mm). pp. 311, (9), with Plantin's device on title and 109 mostly full-page woodcuts by Arnaud Nicolai and G. van Kampen after drawings by Pieter van der Borcht. Contemporary vellum over boards (spine worn).
one of the earliest treatises on 'garden flowers'
The second edition (first 1568) of Dodoens' study of ornamental and fragrant plants, one of the earliest treatises on 'garden flowers'. The work includes many of the recent introductions from Asia Minor, bulbous plants in particular, that were transforming European gardens. "Dodoens' 'Florum, et coronariarum' was devoted to those flowers, ranging from herbaceous annuals and perennials to rare bulbous plants, that were traditionally used in the sixteenth and seventeenth centuries to form garlands and wreaths, 'coronae'; in fact, a garden planted with such flowers was sometimes referred to in this period as a 'hortus coronarius'. Among the flowers he describes are the rose, violet, lily, marguerite, marigold, amaranth, iris, narcissus, anemone and carnation and sweet-smelling herbs such as thyme, marjoram, lavender and lavender cotton. In the second edition of this work, which was published in 1569, Dodoens included descriptions of the tulip (p. 107), the 'Flos africanus' or tagetes (p. 62), and the 'Chrysanthemum perunianum' or sunflower (pp. 305-6), which, as the auhor explained, is crowned with flowers of 'exceptional size' and is native to 'Peru and other American regions''' (Lucia Tongiorgi Tomasi, An Oak Spring Flora, p. 156).

Rembert Dodoens (1517-1585), Flemish physician and botanist, was one of the three great Flemish botanists of the second half of the sixteenth century, the others being Clusius and L'Obel.

The second edition is a slightly modified version of the first edition. It has 5 entirely new woodcuts, four were used to replace four illustrations in the first edition.

Provenance: P. Bodenheim, P. Keller on free endpaper, bookplate of Ernst Conrad Stahl, 'ex libris Henrici Schriber ? Palens S. M. O. on title.

Hunt 104; Nissen BBI, 514.