---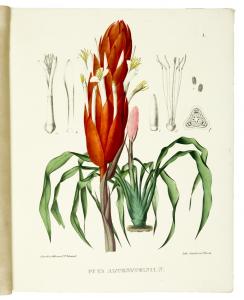 Icones Plantarum Rariorum Horti Regii Botanici Berolinensis.
Eur 3,500 / USD 4,200
The price shown does not include 9% V.A.T. As a result of the EU legislation we are required to charge our EU customers 9% V.A.T., unless they possess a V.A.T. registration number.
Abbildungen seltener Pflanzen des Königl. botanischen Gartens zu Berlin. Erster (-Zweiter) Jahrgang(all published!). Berlin, Veit & Co., 1841/Nicolai, 1844. 2 volumes (bound in 1). 4to (276 x 222mm). pp. (4), 61, (3), 63-123, (1), with 48 handcoloured lithographed plates. Contemporary half cloth (a bit worn).
damit hatte Berlin den artenreichsten wissenschaftlichen Garten in Europa
Of this scarce and attractive work only two volumes have been published. The beautiful plates drawn and lithographed by C.F. Schmidt depict many fine illustrations of orchids, such as Oncidium, Odontoglossum, Notylia, Scelochilus, Tigridia, Epidendron (3 various species), and Rhynchopera. Another plate shows Protea longiflora, a fine South-African plant, of which the seed was brought to the Botanic Garden in Berlin, where this plant was cultivated.
"Bleibende Verdienste um den Berliner Botanischen Garten, den 'Hortus regius Berolinensis', der sich damals noch in der Potsdamer Straße - auf dem heutigen Gelände des Kammergerichts und seiner Umgebung - befand, hat sich Heinrich Friedrich Link in mindestens dreifacher Hinsicht erworben. Zum einen bereicherte er ihn um viele neue, auch seltene Pflanzen, nicht zuletzt durch Samentausch mit anderen botanischen Instituten. 1843 wurden hier über 14 000 Arten gezählt, doppelt soviel wie noch zu Willdenows Zeiten; damit hatte Berlin den artenreichsten wissenschaftlichen Garten in Europa, eine Einrichtung von Weltrang (G. Fischer, 'Einer der letzten Universalgelehrten zum 230. Geburtstag des Berliner Botanikers H. F. Link').

Two old library stamps on title.

Great Flower Books, 65; Nissen BBI, 1213; Pritzel 5396.