---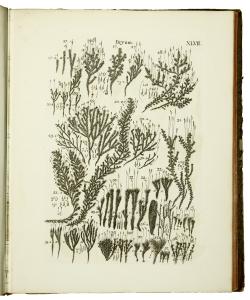 Historia Muscorum: A General History of Land and Water, &c. Mosses and Corals, containing all the known Species, exhibited by about 1000 figures, on 85 large royal 4to copperplates, collected, drawn and engraved in the best, manner from the originals...
Eur 1,400 / USD 1,700
The price shown does not include 9% V.A.T. As a result of the EU legislation we are required to charge our EU customers 9% V.A.T., unless they possess a V.A.T. registration number.
London, J. Millan, 1768. 4to (290 x 235mm). pp. (2), 13, (1), 10, with 85 engraved plates. Contemporary half calf, spine with 6 raised bands, gilt lettered label and floral ornaments.
Jacob Johann Dillenius (1684-1747) was a British botanist of German birth, Sherardian professor of botany at Oxford. Third edition, the first was published in 1741. "...in 1741 he published his most important book, 'Historia muscorum', in which he introduced a new classification of the lower plants (some features of which system are still in use this day). In his desire to be definitive Dillenius put a prodigious amount of work into this book, which meets the high standards demanded by more modern taxonomy" (DSB).
"Les descriptions de Dillenius sont brèves mais l'illustration est bien plus précise que dans presque tous les ouvrages antérieurs, et de nombreux détails sont parfaitement identifiables (feuilles, opercules, coiffes, etc...). Les planches montrent avec fidélité de nombreuses espèces de muscinées, ce qui permettait, enfin, de les identifier. D'où les nombreuses éditions de cet ouvrage recherché déjà au moment de sa parution"(De Sloover & Bogaert-Damin, 'Les Muscinéed du xvie au xixe siecle' p. 99).

Provenance: Bookplate of Dr. J.M.W. Baumanni 'Natura doceri' with engraved insects and foliage.

Stafleu & Cowan 1472.