---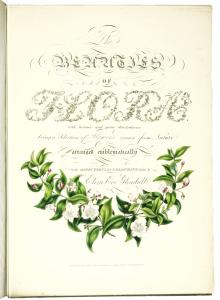 The Beauties of Flora with botanic and poetic illustrations, being a selection of flowers drawn from nature, arranged emblematically with directions for colouring them.
Eur 7,000 / USD 7,700
The price shown on each item does not include V.A.T (Value Added Tax). As a result of the recent EU legislation we are required to charge our EU customers the percentage of V.A.T. charged by the customer's country of residence, unless they possess a V.A.T. registration number. Postage Additional.
Heath Hall near Wakefield, E.E. Gleadall, 1834-36. 2 volumes. 4to (335 x 250mm). With 2 hand-coloured lithographed titles and 41 hand-coloured lithographed plates. Publisher's gilt pictorial cloth.
a rare privately printed flower book
A fine copy of a rare privately printed flower book, of which the two volumes together are difficult to find. Eliza Eve Gleadall's instruction book on how to paint flowers is one of the most important ones of a genre, which became fashionable in the first half of the 19th century. In a special exhibition at the University of Wisconsin, Madision on 'Women & Nature: Floral Sentiment', in September 2001 Gleandall's book figures as one of the more important items of the exhibition.
"At the present period, when the studies of youth are arranged so as to blend information with amusement, when the accomplishments are considered merely as the relaxation of the mind, I have thought this volume on Flowers (which comprehends a botanical account of each specimen, the appropriate emblem, accompanied with instructions for copying the design) might afford a chaste recreation, and contribute to encourage a taste for Flowers . . ." (From the introduction). Only 115 copies printed of the first volume and probably less of the second.

Rrovenance: Armorial bookplate of Henry Greenwood.

Nissen BBI, 715; Dunthorne 123.