---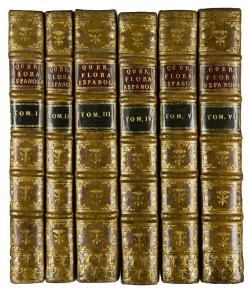 Flora Española, ó historia de las Plantas, que se crian en España...
Eur 9,500 / USD 9,700
The price shown on each item does not include V.A.T (Value Added Tax). As a result of the recent EU legislation we are required to charge our EU customers the percentage of V.A.T. charged by the customer's country of residence, unless they possess a V.A.T. registration number. Postage Additional.
Madrid, Joachin Ibarra, 1762-1784. 6 volumes. 4to (260 x 200 mm). pp. (44), 402; (16), 303; (12), 436; (4), 471, (1); (4), xxxii, 538; (4), 667, with numerous engraved vignettes, 1 engraved frontispiece, 1 engraved coat of arms, 1 engraved folding map, 1 engraved portrait of Quer and 213 engraved plates. Contemporary mottled calf, richly gilt spines with 5 raised bands, red and green gilt lettered labels (spines recently rebacked)
the first major Spanish flora written by a Spanish author
A rare complete copy of the first major Spanish flora written by a Spanish author. The last 2 volumes are by C. G. de Ortega and according to W. Junk in his '50 Jahre Antiquar' rare and mostly lacking. José Quer y Martinez (1695-1764) was a Spanish physician and became director of the Madrid botanical garden in 1755, a post which he remained in until his death. Together with Antonio Cavanilles, his junior, he was the most important Spanish botanist of the 18th century. "The engraved half-title is signed Ysidro Carnizero inven. et delin. The engraved arms and 80 plates are by Lorenzo Morin menor. The engraved portrait is by Fernando Selmo(?) after an original by Antonio Carnicero (?). Two plates are signed by Chozas and one each by Ricarte and Rodriguez" (Johnston 459).

All bibliographies, such as Nissen BBI, Pritzel, Johnston, the most important bibiography on Spanish botany 'La Botanica y los Botanicos peninsula Hispano-Lusitana' by Miquel Colmeiro (Madrid 1858) number 542, as well as a copy sold by Asher in cat. xvii in 1968 call for 213 plates. Stafleu & Cowan call for a 4 bis plate in the first volume, which might be in error or a later added plate.

Library stamp at first leaves of each volume (together 18). Two vols with some marginal staining, a few plates a bit browned. A good copy of a book which we have not offered since decades.

Provenance: Bookplate of Angel Lulio Cabrera, well known Spanish Argentinian botanist (1918-1999).