---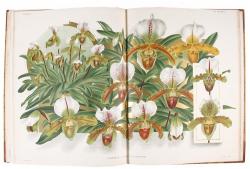 edited by L. Linden (J. Linden & E. Rodigas a.o.).
Eur 38,000 / USD 41,800
The price shown on each item does not include V.A.T (Value Added Tax). As a result of the recent EU legislation we are required to charge our EU customers the percentage of V.A.T. charged by the customer's country of residence, unless they possess a V.A.T. registration number. Postage Additional.
Ghent/ Bruxelles 1855-1903. 17 volumes. Folio (350 x 260 mm). With 798 chromolithographed plates and 1 plain plate. Contemporary half cloth, gilt lettering on spines.
one of the rarest iconographies published on Orchids
A very fine set of one of the rarest iconographies published on Orchids. As usual the set does not include the very scarce last 4 parts of volume 17 (with 14 plates), which are always lacking, as few copies of the last 4 parts were issued. The plates are numbered 1-794, 796-800 of which only plate 525 was uncoloured (as in all copies) and plate 795 never published.

Towards the end of the 19th century Belgium became one of the most important trading centres for tropical and subtropical orchids. After much travelling, especially to South America, Jean Linden established himself as a nurseryman at Ghent but eventually returned to Brussels, where he founded with his son Lucien the establishment known as 'Horticulture Internationale'. They imported more than 1100 different species into Belgium. "In this nursery, which became a model for the profession, Linden's knowledge of plants and localities in which they grew naturally proved invaluable" (Reinikka p. 206).

"Lindenia est vraiment une édition de luxe des présentations d'orchidées. C'est pourquoi elle peut être comparée avantageusement à nos ouvrages anglais les plus soignés" (l'Orchidée en Belgigue, No. 31).
The plates were lithographed by G. Severeyns and P. de Pannemaeker, the best Belgian lithographers of the period. Most of the plates were drawn by A. Goosens, who later collaborated with A.C. Cogniaux on an equally large project, the 'Dictionnaire iconographique des orchidées'. The first 8 vols have some minor foxing.

Stafleu & Cowen 4628; Nissen BBI, 2348.