---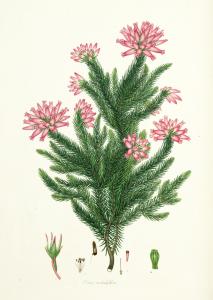 Coloured Engravings of Heaths. The drawings taken from living plants only. With the appropriate specific character, full description, native place of growth, and time of flowering of each; in Latin and English. Each figure accompanied by accurate dissections of the several parts (magnified where necessary) upon which the specific distinction has been founded, according to the Linnaean System.
Eur 45,000 / USD 49,500
The price shown on each item does not include V.A.T (Value Added Tax). As a result of the recent EU legislation we are required to charge our EU customers the percentage of V.A.T. charged by the customer's country of residence, unless they possess a V.A.T. registration number. Postage Additional.
London, T. Bensley [vol I], R. Taylor [vols II-IV] for the Author, [1794-] 1802-1809 [-1830]. 4 vols bound in two. Folio (423 x 259 mm). With engraved dedication leaf and 288 hand-coloured engraved plates; vol III without half-title, some occasional minor spotting to prelims and a few text leaves, a fine, clean copy in contemporary speckled calf by J. Clarke, rebacked preserving original spines, gilt edges.
noble in conception and impressive in execution
First edition, with the rare fourth volume, of Andrews' 'finest achievement ... noble in conception and impressive in execution' (Blunt). Andrews drew and engraved all his plates, wrote most of the text and, according to Dunthorne, even did his own colouring. This work exemplifies the 'erica-mania' that dominated English horticulture at the beginning of the nineteenth century. Numerous newly discovered South African species were being introduced through the enterprise of nurserymen like Lee and Kennedy, and several hundred species and varieties were available and in cultivation. This copy contains all the indexes, dedication, address, introduction, dissertation, list of heaths cultivated by Lee and Kennedy at the Vineyard Nursery in Hammersmith, systematical arrangements, etc. In common with other copies seen, the titlepage of volume IV is in fact the title from volume II with the number altered by hand. The work was published in parts, and volume IV appeared over a twenty-year period from 1810 to 1830. Few complete copies survive, and most sets comprise only the first three volumes, with occasionally a fragment of the fourth.

Dunthorne 9; Great flower books, p 47; Johnston 674 (vols I-III only); Nissen BBI, 31; Stafleu and Cowan 134.