---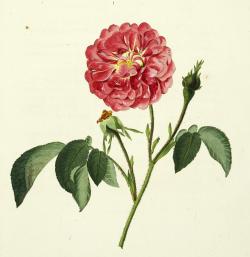 Die Rosen nach der Natur gezeichnet und colorirt mit kurzen botanischen Bestimmungen begleitet. Les Roses dessinées et enluminées d'après nature avec une courte description botanique.
Eur 16,500 / USD 19,000
The price shown does not include 9% V.A.T. As a result of the EU legislation we are required to charge our EU customers 9% V.A.T., unless they possess a V.A.T. registration number.
Leipzig, Industrie-Comptoir, (1802-1817). Parts 1-10 (of 12, bound in 1 volume). Large 4to (312 x 255mm). With 50 (of 60) beautifully handcoloured engraved plates. Recent half calf, gilt ornamented spine (preserving old label).
beautifully produced work on roses
The rarest of the great iconographies on roses. Of the two famous botanical collections formed last century, the Plesh and the de Belder collection, the Plesh collection did not have a copy of the present work and the de Belder collection only had parts 1-6. Stock, in his famous bibliography on roses, published in 1984, could not find a library with more than 10 parts. The reason is that Roessig had died after part 10 and that parts 11 and 12 were continued by C.F. Waitz, most probably in a very small edition.The excellent plates, some printed in red and green, were engraved by Louise von Wangenheim. Each part has five plates and 12 pages of text, only part 7 has 16 pages and part 9 20 pages. This beautifully produced work on roses was only preceded by Mary Lawrance's 'A Collection of Roses' London 1799. Roessig condemns the work of his predecessor for the 'inaccuracy of her botanical draughtsmanship' (Henrey II, p. 580). In turn, Redouté criticized Roessig for lack of botanical accuracy. Some slight foxing to the text.

Stafleu & Cowan 9429; Stock 2456.