---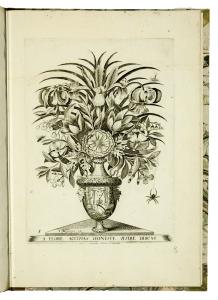 Series of six copper engravings of floral bouquets in vases.
Eur 8,400 / USD 10,100
The price shown does not include 9% V.A.T. As a result of the EU legislation we are required to charge our EU customers 9% V.A.T., unless they possess a V.A.T. registration number.
[Paris, 1620s]. 245 x 175 mm. Half calf, gilt spine with floral ornaments and red gilt lettered label, marbled boards.
rare suite of very beautiful bouquets in ornamental vases with grotesques
An extremely rare suite of very beautiful bouquets in ornamental vases with grotesques, based on an equally rare group of larger prints by Jean Theodor de Bry. The vases are depicted surrounded by insects and other small animals, on a table-top. The plates are numbered lower left from 1 to 6 and the first engraving is signed on the table top in front to the left: 'I. Messager, excudit' and to the right 'I. Pictet Incidit'. The other plates are signed to the left 'I Messager. ex.' (or with minor variations). Each plate has a ribbon below the vase with a Latin inscription. The inscriptions, on the theme of transience, comprise a emblematic text in hexameters based on the six Latin declensions of the word 'Flos', or flower, and involve punning and word play. They translate as follows: 1. The Flower as a mirror of life: no sooner does it flower than it withers with a breath. 6. The quickly changing image of the Flower warns us of the swift passage of time. 3. The tender youth is like a Flower with advancing years. 4. Displaying the Flower [of youth] at the same time he bears the fruit [of maturity]. 2. Oh Flower, thus flowering in the youthful summer. 5. Follow the Flower's lead to a virtuous life. The change in order accords with the original series after which this set has been copied, with the images in reverse. The originals were a series of six larger prints by Jan Theodor de Bry (Liege 1561 - 1623 Frankfurt), produced in Frankfurt-am-Main about 1604 and titled Polyptoton de Flore (The many-sidedness of the Flower). Both the de Bry and the Messager suites are extremely rare. An incomplete set by Messager is in the Bibliothèque Nationale in Paris.

Some marginal staining and some glue stains from previous binding, old ms. numbering from a larger collection of bound engravings from which this has at some time been extracted.

Literature: Gavin D.R. Bridson and James J. J. White, Plant, animal & anatomical illustration in art & science, Winchester and Detroit 1990, n. C65; Desiré Guilmard, Les maîtres ornamanistes.... Paris 1880-81, p. 42 n. 25; Marie-Louise Hairs, Les peintres flamands de fleurs au XVIIe sciècle, Paris 1955, pp. 19-20 (ed. Brussel 1985, p. 27); Literature on the series of De Bry after Kemperer: Die Sprache der Bilder - Realität und Bedeutung in der niederländischen Malerei des 17. Jahrhunderts, Herzog Anton Ulrich-Museum, Braunschweig 1978, p. 103; F.W.H. Hollstein, Dutch and Flemish Etchings, Engravings and Woodcuts ca. 1450-1700, Amsterdam 1949 ff; vol. IV, p. 43 nos 451-456 with 2 illustrations; vol. IX, p. 234; Claus Nissen, Die botanische Buchillustration, Stuttgart 1951 (reprinted 1966), vol. I, p. 68; Kurt Wettengl in exhibition catalogue Georg Flegel 1566-1638 - Stilleben, Historisches Museum, Frankfurt am Main 1993, pp. 212-214 with 6 illustrations