---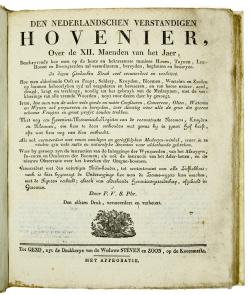 over de xii. maenden van het jaer. Beschryvende hoe men op de beste en bekwaemste maniere Hoven, Tuynen, Lust-Hoven en Boomgaerden zal verordineren, bereyden, beplanten en
Eur 900 / USD 1,000
The price shown on each item does not include V.A.T (Value Added Tax). As a result of the recent EU legislation we are required to charge our EU customers the percentage of V.A.T. charged by the customer's country of residence, unless they possess a V.A.T. registration number. Postage Additional.
bezaeyen. In dezen Gendschen druk veel vermeerdert en verbetert... Den elfsten druk. Door F.V.S. Pbr, vermeerdert en verbetert. Gend, Weduwe Steven en Zoon, 1775. 4to. pp. (12), 137, (1), 25, (1), with 7 full-page woodcuts. Later vellum.
Published anonymously, most likely based on Nylandt's work. Appended at the end 'Medecyn-winkel' the 'Den neerstigen Bieën-houder' and 'Onderwyzinge om de naervolgende Zonne-Wyzers te maeken' the last with 6 of the 7 plates. The last plate shows gardening tools. Outer margin of first and last leaf strengthened.