---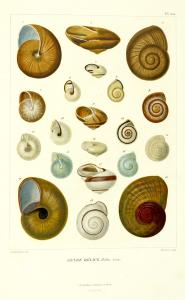 Histoire Naturelle générale et particulière des Mollusques Terrestres et Fluviatiles ...
Eur 15,500 / USD 17,100
The price shown on each item does not include V.A.T (Value Added Tax). As a result of the recent EU legislation we are required to charge our EU customers the percentage of V.A.T. charged by the customer's country of residence, unless they possess a V.A.T. registration number. Postage Additional.
Paris, J.B. Baillière, 1820-1851. 4 volumes. Folio (420 x 275mm). With 248 engraved plates, almost all printed in colours and finished by hand. Recent red half morocco, spines with 4 raised bands, gilt ornaments and lettering.
one of the finest examples of French colour-printing by Langlois
Large Paper copy of one of the rarest and most beautiful conchological works. Some moderate foxing to text as well as plates. "Posterity is grateful to Férussac for some of the most beautiful and accurate coloured figures of non-marine molluscs ever published" (Dance p. 91). It is also the last and one of the finest examples of French colour-printing by Langlois, the printer responsible for some of Redouté's finest work.
The work had a long and complicated publishing history with the result that few copies are found complete. The first 28 parts, by Férussac, appeared between 1820 and 1832, containing 162 plates and 128 pages of text. In 1838 another six instalments were issued by Deshayes. The death of the publisher and departure of Deshayes to Algeria again brought the work to a halt. In 1848 Baillière acquired the stock and plates and convinced Deshayes that a work of such beauty and scientific importance could not remain unfinished. Eight more instalments were published. Deshayes is responsible for the greatest part of the text and 85 plates.
The colour-printing and handcolouring were executed under supervision of Langlois and after his death by his pupil and successor, Geny-Gros, the plates were drawn by the finest natural history artists in France at the time: Bessa, Huet, Prêtre, and Riocreux. Baillière in his "Avertissement de l'éditeur' tells how as a consequence of the 1848 Revolution the most outstanding natural history artists could not find employment, apart from his work.

B.M.(N.H.) II, 569; Nissen ZBI, 1348.