---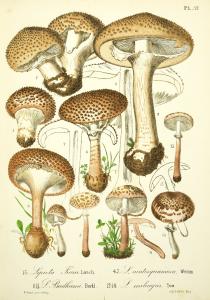 Flore Mycologique Illustrée.
Eur 2,100 / USD 2,300
The price shown on each item does not include V.A.T (Value Added Tax). As a result of the recent EU legislation we are required to charge our EU customers the percentage of V.A.T. charged by the customer's country of residence, unless they possess a V.A.T. registration number. Postage Additional.
Les Champignons des Alpes Maritimes. Avec l'indication de leurs propriétés utiles ou nuisibles. Nice, A. Giletta, 1888 (-1892). 7 parts bound in one. Folio (350 x 272 mm). pp. 80, with 69 chromolithographed plates. Contemporary half calf, gilt spine.
on y trouve la plupart des champignons d'Europe
Nissen BBI, 79; Schliemann 52. "Comme je l'ai déjà fait remarquer, ce merveilleux pays avec ses régions littorale, montagneuse et alpine offre des climats si opposés qu'on y trouve la plupart des champignons d'Europe et que la végétation fongique, même celle des espèces charnues, s'y renouvelle toute l'année presque sans interruption" (Préface). Barla (1817-1896) was a French botanist and director of the natural history museum at Nice. A fine copy of this beautifully produced monograph, of which the plates are partly finished by hand.