---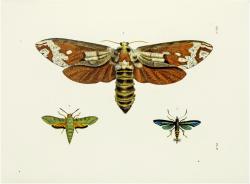 Illustrations of exotic Entomology, containing upwards of six hundred and fifty figures and descriptions of foreign insects, interspersed with remarks and reflections on their nature and properties.
Eur 5,500 / USD 6,100
The price shown on each item does not include V.A.T (Value Added Tax). As a result of the recent EU legislation we are required to charge our EU customers the percentage of V.A.T. charged by the customer's country of residence, unless they possess a V.A.T. registration number. Postage Additional.
A new edition ... by J.O. Westwood. London, H.G. Bohn, 1837. 3 volumes. 4to (270 x 210 mm). With 150 handcoloured engraved plates and 1 plain engraved frontispiece. Contemporary half calf, spines in 6 compartments with gilt lettering.
one of the most attractive English entomological works on exotic insects
The second and last edition of one of the most attractive English entomological works on exotic insects, with superb hand-colouring of the plates. The first edition appeared from 1770-1782. Dru Drury (1725-1803) was the son of a silversmith. "By virtue of his marriage and inheritance of the family business he was a reasonably wealthy man who could afford to support his most serious hobby entomology. Drury's collection had great fame during his life time. He spent much time and money persuading others to collect specimens for him from foreign countries. He had a wide correspondence with entomologists around the world. Linnaeus (1707-1778) and Willliam Kirby (1759-1850) both named species after him" (Harvey, Gilbert & Martin, A catalogue of manuscripts in the Entomological library... 119). The majority of the fine plates were drawn and engraved by Moses Harris. "Although originally conceived as a publication to illustrate all the specimens that came in, Drury soon changed his mind and eventually decided to illustrate only those specimens which had not previously been drawn. Years later, the eminent British entomologist W.F. Kirby described the work as an 'Opus entomologicus splendissimus'!" (Gilbert, Butterfly Collectors and Painters, p.140). A few pages of the third volume with some slight browning at the lower margin.

Nissen ZBI, 1160; Horn & Schenkling 23891.