---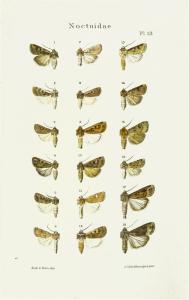 Noctuelles et Géomètres d'Europe. Iconographie complète de toutes les espèces européennes.
Eur 2,500 / USD 2,800
The price shown on each item does not include V.A.T (Value Added Tax). As a result of the recent EU legislation we are required to charge our EU customers the percentage of V.A.T. charged by the customer's country of residence, unless they possess a V.A.T. registration number. Postage Additional.
Genève, Villa-Les-Iris, 1909-1920. 4 volumes. Royal-8vo (245 x 165mm). pp. (2), 220; (2), 243, (1);(2), 269, (3); (6), 167, (3), with 152 (151 hand coloured) lithographed plates. Contemporary half calf, gilt lettered spines, first and last volume rubbed.
issued in a very small edition only
Although published at the beginning of last century, this nicely illustrated iconography is very scarce, as it was issued in a very small edition only. "The very detailed and excellently executed plates were drawn and handcoloured by the author himself" (from the introduction by C. Oberthür). 'C'est d'ailleurs en grande partie d'après les sujets de sa collection que Culot publia son Iconographie des Noctuelles et Géomètres d'Europe? plus de 150 de ses planches, gravées sur la pierre lithographique et colorisées à la main. Cet ouvrage, qui fut couronné d'un prix de la Société entomologique de France, constitue un auxiliaire précieux pour tous ceux qui collectionnent et étudient les papillons' (Mitteilungen der Schweiz. Entom. Gesellschaft, Vol. XVI, 3 1934).

A handwritten letter of Jules Culot is bound in.

Provenance: Bookplate of Claude Herbulot.